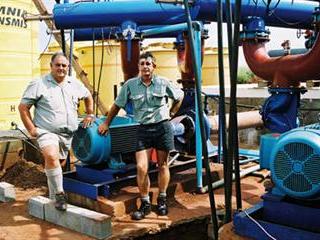 DEMAND SIDE MANAGEMENT
is still a major aim for Eskom. It's important to save energy, especially during peak hours. Eskom will always be willing to assist farmers with electrotechnical advice, and will fund the implementation of energy-efficient projects.
This means farmers will still be able to use the same amount of electricity for sustainable farming without having to forfeit productivity. The difference is that they will use electricity in off-peak times when tariffs are lower. With this action Eskom is changing perceptions of especially large power users, from a mindset that electricity is there to be used when it suits you, to using electricity when it is most affordable. Eskom's ultimate objective is the optimal utilisation of available off-peak electricity.
SA's most energy-efficient farm
Eskom's prestigious annual Energy Efficiency Award was recently awarded to Senekal Boerdery of Mkuze in northern KZN. It received the award because the electricity it uses for farming processes is limited to off-peak hours only.
Senekal Boerdery, SA's largest sugarcane farm, has 3 500ha under irrigation, and adds an extra 600ha annually. Charl Senekal heads the business, joined by his three sons and three senior managers.
When Dan Mocwangweng, Eskom's advisor for energy in agriculture in the Mkuze area, visited the farm and saw that they were expanding again, he realised that the farm could save considerably on its energy consumption by using electricity in off-peak hours only. Dan recommended they investigate this option.
Consultant for Eskom, Dr Frik Venter of Transmission Grid Consulting, became involved in the project and conducted a complete evaluation of the farm's energy requirements, including the farm's future energy requirements and the irrigation of 5 000ha of sugarcane.
From left, Charl Senekal and Gerhardt Davies with the irrigation pumps that supply water for the drip irrigation.