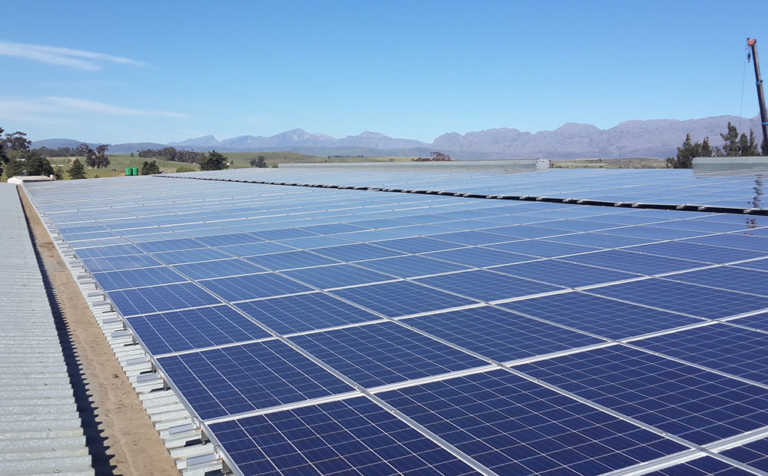 Why did you decide to install solar panels?
CFG is the biggest user of electricity in Ceres, accounting for more than 38% of all the electricity used. Our peak usage occurs in summer, due to refrigeration. Solar energy seemed like a sustainable way to help us reduce our peak load.
The system is pretty straightforward: the sun shines, and power is generated. It consists of 4 060 panels, each with a 250W- generation capacity. The system is capped at just under 1MW.
For eight months of the year, the solar panels power a refrigeration compressor plant that provides refrigeration to roughly 40% of the controlled atmosphere cold rooms at the CFG facility.
We don't use batteries, because we use all the power generated, leaving no real charge time for the batteries. At the time of our investigation, the cost of a battery backup system was also too high, with no rate of return.
How much did the system cost, and what is the return on investment?
It cost R17 million. We foresee that it'll pay for itself in roughly nine years, depending on Eskom's electricity price hikes. So far, we've saved nearly R5 million, while also managing to significantly reduce our carbon footprint.
Do you sell electricity back to the grid?
No, because we don't really have a surplus to sell. CFG consumes around 30 million units of electricity per year, and the solar system represents 3% of our total electricity cost.
Also, the municipality doesn't have a policy in place for this. We would consider an expansion of the system if we were able to sell electricity back to the municipality at a fair tariff.
What tips do you have for producers who want to install solar panels?
Know your base and peak power usage, when in the year this occurs, and for how long.
Ensure that your roof is strong enough to handle the extra weight of the panels and the roof sheets are in good enough condition to handle the 25-year lifespan of the panels.
Go big.
The more panels you have, the better your 'start-up' generation on a particular day. And ensure your panels stay clean. The cleaner they are, the more efficient your system.
Email Rahim Hassan at [email protected].