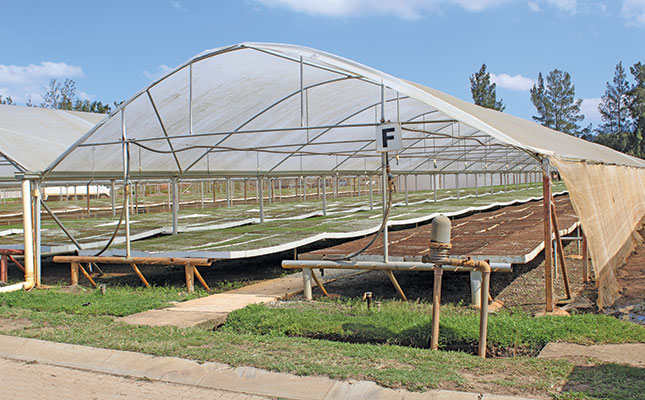 What are the environmental benefits of undercover farming?
The undercover farming industry prides itself on its low water usage. On the one hand, a hydroponic system uses as little as 30% of the water typically used to grow a similar crop on open land under irrigation. Evaporation in open-land irrigated systems has a negative effect on the producer's bottom line.
On the other hand, water supplied to an undercover farming system must often be filtered via expensive systems, as water sources close to cities or industries are prone to carry pollutants that would be unsuitable for applying directly to plants.
Irrigation in undercover farming systems generally consists of drip irrigation managed through a pre-set electronic system that also controls the interior climate (humidity, temperature and air flow).
Every drop counts, and the system is largely computerised to avoid human error. Electricity power outages may play a role, but the larger operators in the industry are countering this by installing generators.
What are the key aspects of production in undercover farming?
The ideal base for an undercover farming operation, especially one that specialises in fresh produce such as tomatoes, cucumbers, sweet peppers or leafy greens, would be close to its market, which means just off the highway and near cities.
Although the land required by a fairly large greenhouse operator might be only 5ha to 10ha, it commands a premium as it is close to the city, and this should be added to the cost of marketing.
Tomato, pepper and cucumber seedlings are planted in a growth medium and require drip irrigation. Depending on the type of product and greenhouse system, some plants grow up to 5m tall and produce between 5kg/m2 and 8kg/ m2 more than on open land.
Producers use a variety of growth media or substrates, but most opt for a mixture of coco peat and perlite for two or three growing cycles, steam-cleaning the media in-between cycles. Large operators with multi-span greenhouses often use rock wool in compacted, plastic-covered blocks for their plants.
Are pests and diseases a problem for a tunnel farmer?
Like all other farmers, greenhouse producers have to deal with diseases and insect pests. Fortunately, the almost sealed environment helps ensure that far fewer insect pests or birds get to the crops.
Nonetheless, there are challenges such as humidity, which causes leaf defects and inhibits production, and several plant diseases that workers have to be on the lookout for.
Flying insects can enter when rooftop traps or doors are opened to release excessive heat build-up. Daily inspection is necessary to prevent major problems or heavy losses.
Integrated pest management is high on the list of large-scale undercover producers, and most apply specific chemical products only when absolutely necessary. Some farmers use methods such as planting lavender or other vegetation between greenhouses to repel insect pests.
What are the specific advantages of farming in greenhouses?
The initial investment cost of tunnel farming may seem high, but it's not much more than the cost of an economically viable piece of land with all the infrastructure and implements required for open-air production.
With proper planning and prior training of managers and staff, a tunnel operation producing a crop for a steady, established market would need, on average, between 20 to 30 months to show a return on investment. This is much earlier than one would expect when starting the average business.
With advances in technology, only a few assistants are necessary to operate a modern greenhouse. Employees are needed mainly to scout for pests, train up plants, or clean the area. During harvesting and packing, temporary workers with the necessary skills are usually employed.
In South Africa, undercover farming encompasses greenhouses (plastic tunnels and multi-spans) and shade netting. The former are located close to main markets in Limpopo, Mpumalanga, KwaZulu-Natal, Gauteng, and the Eastern Cape and Western Cape.
Farms with shade net structures are found in almost every province where table grapes, nuts, citrus, deciduous fruit, avocado, apples and berries can be grown. The netting protects against possible wind, hail and bird damage.
Have farmers and agricultural infrastructure manufacturers shown an increasing interest in tunnel farming?
The undercover farming industry started in South Africa in about 1937, when Dutch horticulturalists in this country started growing flowers in 'hoop houses' or tunnels they had built themselves.
About a decade later, trials were carried out with vegetables, and this form of cultivation become popular. But it was in the 1990s that undercover farming really started taking off.
Since 2000, increasingly more people, some with a financial background, have taken up undercover farming because of its lucrative outcome.
The sudden growth of a middle-class income group, coupled with immense growth in the food services industry, especially restaurants adding vegetarian and vegan dishes to their menues, all contributed to an increase in the number of tunnel operations.
Unfortunately, no government department or associations in the sector can provide the actual number of hectares or farmers involved in undercover farming, or what the industry (including the many hectares of nuts, citrus, apples and table grapes under shade netting) adds to the GDP.
With an increased focus on healthy lifestyles, and beautifully dressed plates of food fresh from the garden, organisations have sprung into being that endeavour to create 'green city rooftops'. This is a splendid idea, but the challenge is that the owner of such a rooftop garden has to ensure that the system runs symbiotically with the environment.
Do you anticipate that more produce will be grown in tunnels in the future?
South Africa has just endured one of its worst droughts in many years. But the unstable economy and some political aspects are putting people off of investing here.
The largest undercover operators are mostly those who have expanded to retain their market share. Most South African suppliers of undercover farming infrastructure are local agents for European manufacturers and now supply Kenya, Ethiopia, Angola and Mozambique, where the growth in this sector in Africa lies.
The focus on saving water, coupled with the growth in demand for fresh produce, may encourage current open-land producers to consider undercover farming as the way forward.
In addition, specialised crops for pharmaceutical and beauty treatments, such as cannabis and essential oils, are coming to the fore, although these are grown in specific areas under specialised conditions.
Fresh produce tunnel farming should appeal to young people with a keen business sense and a hands-on approach, and they have the opportunity to take the sector forward.
What are the biggest challenges facing this industry?
Unfortunately, the current exchange rate makes imported undercover farming infrastructure materials expensive for the beginner. In addition, load-shedding means that producers have to consider solar power systems, which increase initial investment.
The best option for new entrants is to obtain land as close as possible to their markets. There is definitely scope in South Africa for those with the aptitude for undercover farming and its technologies.
A number of universities and technical colleges, as well as private businesses, offer theoretical and hands-on training courses in undercover farming.
Email Suzanne Oosthuizen at [email protected].