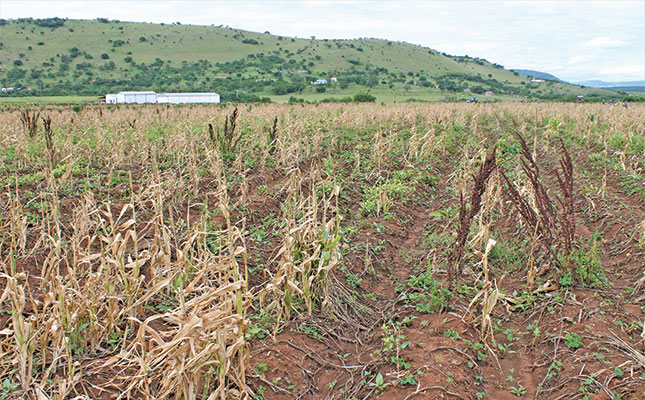 Members of the approximately 42-member Gugulethu community in KwaZulu-Natal's deep-rural Middelrus area are not easily deterred from achieving their collective goals.
After receiving a 345ha farm in 2007 as part of South Africa's land restitution programme, the community experienced one disappointment after another in its efforts to operate a profitable commercial farming business.
But its members never gave up and, today, with the help of the non-profit, private sector Upper Midlands Agricultural Transformation Initiative (UMATI), this vision is on the way to being realised.
A farm, but no support
The Gugulethu Community Trust (GCT) owns Gugulethu Farm on behalf of the community's members. GCT chairperson Bheki Nene, together with fellow committee members Nathi Nene, Zakhele Shezi and Sebenzile Dladla, manage the farm's day-to-day operations.
Bheki says that Gugulethu Farm's previous owners grew seed and commercial potatoes, yellow maize and green mealies, and the farm came with equipment and infrastructure such as tractors, irrigation, sheds, a mechanised potato sorting system, cold storage rooms and a small maize mill.
"The problem was that our community had no money for production inputs when the government bought the farm for us," he explains.
With limited government support to get the GCT's commercial crop production started, the community decided to lease the farm to a local commercial farmer until they could save enough of the rental income to pay for their production inputs.
In 2011, officials of the former Department of Rural Development and Land Reform approached Gugulethu and five other community-owned farms in the Middelrus area with the idea of having all six farms form a joint venture to grow, process and market fresh produce.
For a variety of reasons, the joint venture began to fail after two years, prompting GCT's committee to withdraw Gugulethu Farm from the government-led initiative.
Help, and setbacks
Bheki says that after the failed joint venture, the community still did not have enough money to buy all of the expensive inputs needed for a large-scale commercial fresh produce agribusiness.
So there was understandably much excitement when KZN-based representatives of an international non-profit 'development facilitator' approached the community in mid-2014, promising to arrange a no-interest production loan.
The organisation added that it would train the community in crop production and business management.
"Over the 2014/2015 summer, with the organisation's help, our farm's fresh produce production went well," recalls Bheki.
"The problem came when the organisation failed to arrange the marketing and distribution logistics it had promised."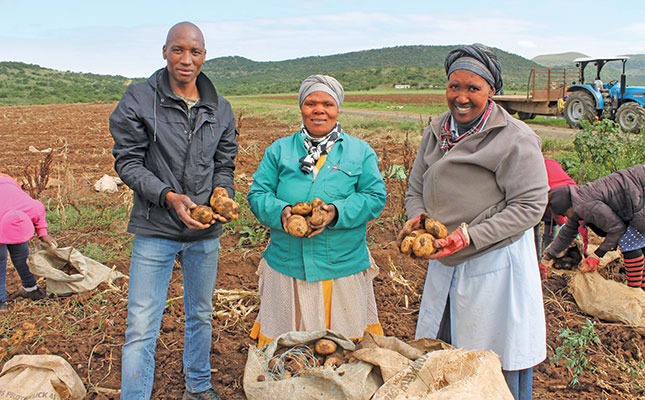 The Gugulethu community tried to sell what it could by itself, but they had to leave most of their crops to "rot in the soil", according to Bheki.
Unsurprisingly, the community broke off its relationship with the organisation.
In late 2016, the GCT tried to establish a commercial maize and potato production partnership with a local businessman. But this, too, failed as it turned out to be a highly unfavourable set-up.
"Again, we had to cut our business relationship with this latest partner," explains Bheki.
"We were back without funds to plant our own crop. One little advantage we did have was that we'd been able to keep all of the undersized commercial potatoes that were part of the crop we produced when we had the partnership. We stored these in Gugulethu Farm's cold rooms. There were enough for 10ha of our 70ha of irrigated lands. We just didn't have the money to plant and manage the crop."
A crucial loan
It was at this time that the GCT became aware of the work of UMATI and its chairperson, James Kean, and project manager, Graham Armstrong.
GCT committee member Nathi Nene says that by now they were almost at their wits' end. However, determined not give up, the GCT approached UMATI for any assistance that it might be able to provide.
"We met with Graham in July 2018 and explained to him that we were struggling to settle our outstanding account with Eskom," says Nathi.
According to Graham, after his meeting with the GCT, he and his colleagues at UMATI felt that the community and its farm had "big potential".
They were also impressed by the community's enthusiasm and willingness to work hard towards success.
UMATI arranged an urgent, substantial and interest-free privately funded loan for Gugulethu Farm and the GCT.
The terms of the loan were that it would be used only to settle the farm's Eskom account; pay for urgent repairs and maintenance of crop production and processing infrastructure; cover worker wages; and buy inputs for the intended 10ha potato crop.
In addition, the loan would have to be repaid in full as soon as Gugulethu Farm's first potato crop was harvested and sold.
"The community and I agreed that it would be best to sell the potato harvest through Durban Fresh Produce Market, and we chose Delta Market Agents to handle the marketing for Gugulethu Farm," says Graham.
"At the same time, it was decided to establish SebenzaNgamandla as an operating company to lease Gugulethu Farm from the trust and facilitate more effective farm management practices. Instead of a large group of people managing the operation, it would now be a small group of directors answerable to the trust."
Bheki and Nathi point out that while Graham remains a production adviser, it is up to SebenzaNgamandla's directors to make and implement any final management decisions regarding the agribusiness's operations.
When the potato crop was almost ready for harvesting, Delta provided the community with valuable training in correct on-farm potato sorting and packing practices so that the highest prices could be achieved at the Durban market.
Making up the difference
Bheki explains that because SebenzaNgamandla's first standalone potato crop was grown from retained and uncertified seed, final yields averaged 25t/ha across the 10ha rather than the ideal of at least 40t/ha.
Thus, although they were able to repay the loan, they still did not have enough money to cover all of the production costs for their next potato crops.
"To boost our farm's income, in early 2019, we also grew 5ha of vegetables and green mealies with our input costs funded by the Dutch government," says Bheki. "The harvest was sold via Durban market and directly to informal traders."
At the same time, the Gugulethu community entered into a project with French company Groupe Soufflet, which had been contracted by Heineken to source barley grown by black farmers.
According to Nathi, SebenzaNgamandla's first-ever barley crop was not particularly successful due to unfavourable weather, late planting and damage caused by birds. The final yield averaged 3t/ha.
With SebenzaNgamandla still short of funds for planting its 2019 potato crop, UMATI
again came to its assistance. Graham and the GCT successfully appealed to Potatoes South Africa's transformation initiative to help SebenzaNgamandla with supplies of certified seed potatoes sufficient for 18ha of production.
UMATI also once again arranged for an interest-free privately funded production loan for SebenzaNgamandla to buy inputs.
Success
Bheki is proud to say that SebenzaNgamandla's December 2019 and January 2020 potato harvest averaged 42t/ha.
"We project that our farming operation should start producing profits during the course of 2021. In the meantime, though, we already […] have 10 community members permanently employed on the farm, and at peak potato-harvesting time we employ up to 130 temporary workers from the Gugulethu community and neighbouring communities. Before this, there was very little employment in the Middelrus area."
Email Bheki or Nathi Nene at [email protected], or UMATI at [email protected]. Visit umati.org.za.