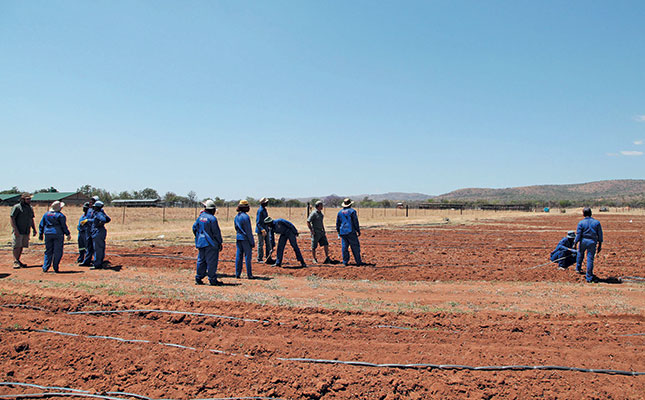 The future of farming depends on a younger generation that is open to new ideas, say Walter Gouveia and Kobus Schoeman of Mooinooi in North West.
Kobus's and Walter's approach to farming is based on agro-ecological or permaculture practices. "Permaculture is about three things: people, the earth and the surplus you can sell. Everything is evaluated based on these three principles. It's not just about rands and cents," Kobus says.
Walter, who farms on Elandsruzt, cultivates chillies and maize, which he rotates with other vegetables, and runs a Bonsmara herd, as well as Dorper and Meatmaster sheep. Kobus farms vegetables and Boer goats on Tussen die Bome. Both men also have citrus orchards.
Student training 
On a visit to the Jacaranda Show in Pretoria earlier this year, students from the South Western Agricultural College (SWAC) approached Kobus and Walter and asked them to assist with practical training.
SWAC is a continuing education and training centre in Soweto and has an agricultural training facility in Krugersdorp. It is the only college in Gauteng that provides primary agricultural training.
Lecturers from the college then visited Kobus and Walter on their farms and asked whether they could bring some students the following week. "We did not have any infrastructure in place, but 'n boer maak 'n plan, and a week later we accommodated 11 students per farm," Walter says.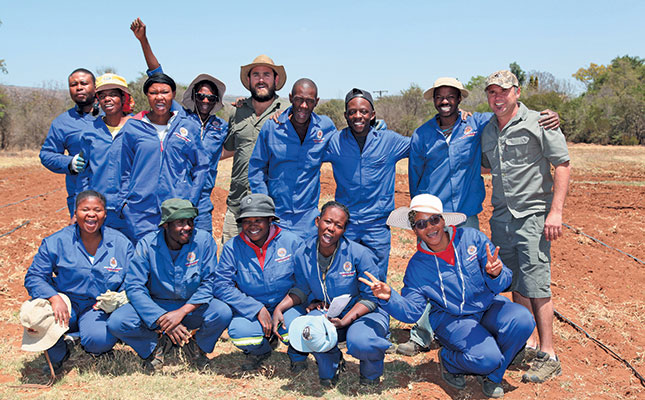 The college could not assist the students financially, but provided mattresses and donated meat for their meals, while Kobus and Walter covered the rest of the expenses.
However, the Mooinooi community soon came to the rescue, with a bakery donating bread, and other farmers volunteering to train students on their farms on topics that Kobus and Walter were unable to cover.
Students helped with the erection of fencing, installation of drip irrigation systems, vaccination of sheep, and much more.
"These students have the potential, but not the opportunities. We see what is happening with government farms in our area and we want to bring trained students to the right locations so that these challenges can be addressed," Walter explains.
He also believes that they can play a role in training the 'right' students for land reform projects.
"It could make a real difference to food security in future," he says. "What I like about students is that they are informed. We'd be showing them how to plant something and they would already be thinking about how to fertilise the crop, or which companion plants would work with it," Walter says.
Permaculture practices
According to Kobus, he and Walter use permaculture to 'mimic' nature and farm according to the principles of nature. They try to plant crops of varying heights to mimic the stratification or vertical layering of plants in a forest. This approach helps to rehabilitate the soil, increase nutrients and assist with pest control.
Kobus explains that they create square beds underneath the trees in their citrus orchards, in which herbs are planted. Some of these herbs are used as stover, others are 'chopped and dropped' as fertiliser for the trees, and the rest are harvested and sold to local vegetable markets.
Each aspect of production is aimed at rebuilding the soil to assist in the long-term sustainability of the farms.
They also try to maintain a careful balance with pest and disease control. For example, if there are too many white flies in an orchard, more carnivorous insects or chickens are introduced to feed on them.
Kobus and Walter shun conventional pesticides. Instead, they boil up seringa tree leaves, add water and spray the mixture on plants to keep insects away. This mixture has also proven successful for keeping ticks away from sheep.
Two teaspoons of a herb mixture are added to regular feed to treat worms in cattle and sheep. The mixture consists of mustard powder, thyme leaves, wormwood, black walnut hull powder, chopped sage leaf, minced garlic, rosemary leaf, chopped cloves, psyllium seed powder and diatomaceous earth.
This treatment only becomes effective over time, but Kobus says that egg counts in dung show that his livestock are reacting favourably and he now does not need to deworm them at all.
Walter is still in the process of converting from conventional deworming practices to the herb mixture. As the transition to permaculture takes time, farmers using conventional practices are advised to take a number of seasons to convert.
"Take care of the land and people and they will take care of you," Kobus and Walter conclude.
Phone Walter Gouveia on 072 811 0312.