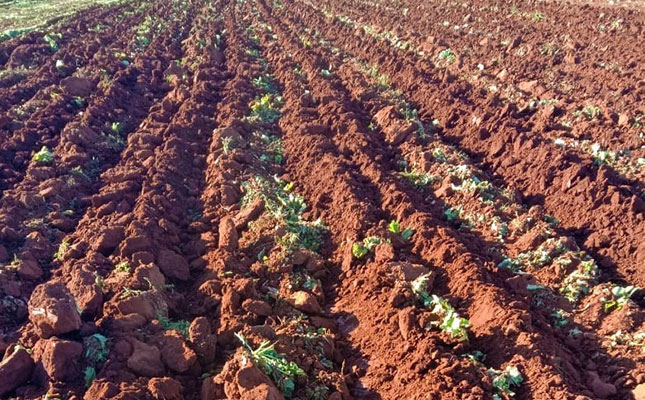 Some South African fresh produce farmers are opting to plough their produce back into the ground rather than sending it to national fresh produce markets due to the low prices they are receiving, according to vegetable farmer Eric Mauwane of Oneo Farms near Tarlton in Gauteng.
Mauwane produces sweet peppers, jalapeño peppers, broccoli, cauliflower, red cabbage, green beans, and baby marrows.
READ Four niche crops to boost your cash flow
Due to the lockdown restrictions to contain the coronavirus disease (COVID-19) pandemic, the supply chain was losing its "buying power", and this was affecting farmers across the country because it now cost more to package and send produce to the markets than it did to grow the produce, Mauwane explained.

"I have spoken to a lot of farmers and we have been receiving lower prices for fresh produce from the markets. The retailers are buying our produce at lower prices, but still sell at normal prices. This is not fair to us as producers; some commercial farmers are going to [lodge a complaint with] the Competition Commission."
For example, he said the average price of a head of lettuce at all fresh produce markets at the end of May was about R2.
"It costs about R3 to produce and package a head of lettuce for us farmers, and retailers are selling them at about R14 [each].
"We are unable to pay our labourers [and] cannot afford them for the next planting cycle. Even the assistance from government's COVID-19 Agricultural Disaster Fund is not enough; R50 000 is [only] enough for 1ha," he said.
Dr Sifiso Ntombela, chief economist at the National Agricultural Marketing Council, said the low price some farmers were receiving for certain produce was a function of price transmission and reduced aggregate demand at fresh produce markets.
READ Cashing in on the expanding plant extracts market
"The higher prices at supermarkets do not necessarily translate to higher prices for the fresh produce market, and [as a result], for farmers. Higher supply and low demand are suppressing the prices. Retailers have centralised distribution systems, and they are able to control supply, which keeps their prices relatively high," he explained.
Jaco Oosthuizen, CEO of the RSA Group, said supply and demand forces could be very fluid during a national emergency.
"It's sometimes the case that there is either an oversupply of a certain produce line, resulting in low prices, or a tapering off of demand and associated price pressures. These fast-changing variables are the most common drivers of differentials between the farmer's price and the cost to the end-consumer," he said.
Dr Theo De Jager, president of the Southern African Agri Initiative (SAAI), said: "COVID-19 has shown us that there is something wrong with the distribution of risk and profit. There is no justification for the pricing structure.  The cost of getting the product from the farm to the shelf cannot be that high."
''Farmers produce with money that is borrowed from banks, and they are unable to pay their debt for production from last season. Commercial banks have publicly announced that they will stand by the farmers, but we don't know what that entails. We are asking for special financing and postponement of last season's [debt and] to pay at lower rates so that we can borrow for the next season,'' he said.