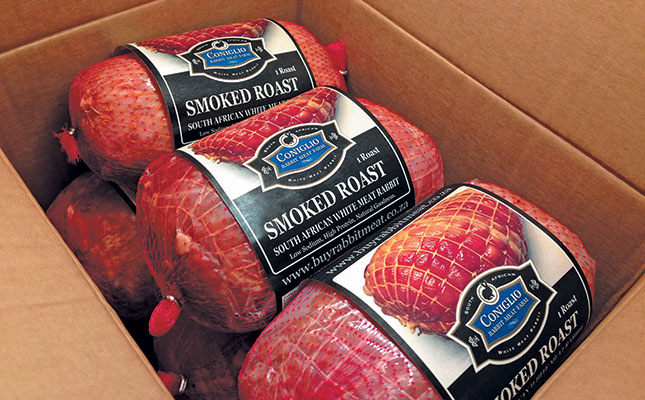 Government and farmers are rallying to save the rabbit farming industry after one of its biggest role players, Coniglio Rabbit Meat Farms, was liquidated in October.
Various provincial agricultural departments had reportedly invested heavily in Coniglio to provide small-scale farmers with rabbit farming infrastructure and breeding stock.
READ Practical tips for starting a rabbit farm
The losses could amount to over R56 million, while Coniglio's assets had been valued at around R3,6 million.
Len Coetzer, a senior research technician at the Department of Agriculture, Rural Development and Environmental Affairs in Mpumalanga, said that Coniglio had effectively been operating like a pyramid scheme, using money from one investor to pay another.
"The figures they provided for return on investment were outrageous. They told everyone they had a market to sell the rabbits abroad, so they not only sold the farmers all the infrastructure to get started, but also took the rabbits ready for market from them. However, many of these farmers never received the money for the rabbits they sold."
Agriculture departments in both Mpumalanga and KwaZulu-Natal provided funding for farmers to start rabbit farming ventures, all of which was paid over to Coniglio.
RECIPE How to cook rabbit meat
One official, who spoke to Farmer's Weekly on condition of anonymity, said the department had paid R2,4 million to Coniglio days before the company was liquidated.
"It is not just the department that is losing out, but all the creditors as well, including companies like Old Mutual. The farming projects are now on ice until we can find a way forward."
Izanne Oosthuizen, a farmer near Bothaville, who bought rabbit breeding stock and infrastructure from Coniglio in February, said she had not seen a cent for the rabbits she delivered to the company.
"Our contract states that we can only sell our rabbits ready for slaughter to Coniglio, and we have been supplying them for most of this year. Other farmers in the area have been farming for two years without receiving any money for their rabbits.
"We are now in a difficult situation because we have all the stock and infrastructure, with no market for the meat. And until we can develop a market, we will either have to stop breeding, but still cover the costs of feeding the rabbits, or continue to slaughter, freezing the meat and hoping we can sell it before we run out of freezer space.
"It is a real mess because the average South African laughs when you tell them about rabbit meat. Any exports will need to be negotiated with individual countries, which will take time."
READ Fake meat: coming to a supermarket near you
Coetzer said that the rabbit industry held much potential and could be a good investment if it was more regulated, and markets were found.
In an interview with Farmer's Weekly in 2017 Coniglio managing director John Falck said the Coniglio Rabbit Meat Farm was established early 2011 to build a platform to supply rabbit products to markets in South Africa and abroad.
Falck said that, at the time, there were 114 farmers from across the country supplying the company with rabbit meat.
Explaining the Coniglio business model he said they offered ten-year contracts to farmers who were interested in farming with rabbits, and they provided these startup rabbit farmers with cages, breeding stock, training, and the necessary software to run their businesses.
At the time, according to Falck, Coniglio was offering farmers contracted to supply them with rabbits for slaughter a price of R45 per kg of carcass weight.
Coniglio did not respond to Farmer's Weekly's requests for comment.
*Read Rabbit farming: how to enter this 'money-making' market