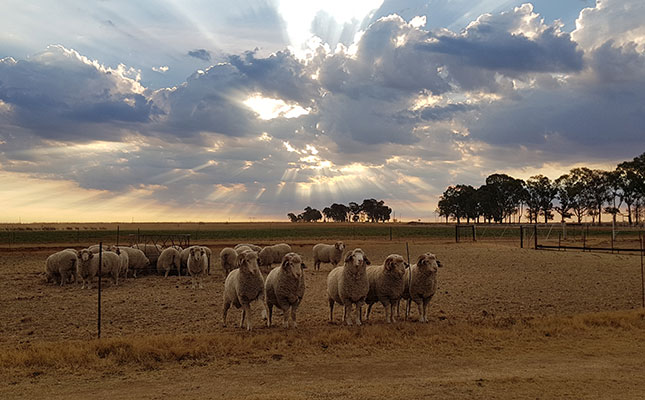 Unlike highly perishable and other food crops, wool is considered a non-essential agricultural product. However, amendments made, during the coronavirus disease (COVID-19) pandemic lockdown period, to regulations under the Disaster Management Act 57 of 2002 will allow for harvesting and storage of wool.
Shearing is allowed in so far as it prevents losses of primary agricultural products. This means that shearing is protected under the regulations in cases where losses may be suffered if sheep are not urgently sheared.
READ R2,2 billion in food aid needed to combat hunger in Zimbabwe
"Producers who decide to shear as provided for by the Disaster Management Act are requested to do so in a responsible and conscientious manner. Transport permits and regulations pertaining to the transport of workers, among others, must strictly be adhered to," said Leon de Beer, CEO of the National Wool Growers' Association (NWGA).
The wool production industry also welcomed the amendments to the regulations that now allowed wool exports during the lockdown period.
These regulations provided for the exporting of agricultural cargo, and paved the way for exporting wool already in brokerage stores and at local ports.
"This concession also allows for the provision of export certificates to export destinations to unload loads on arrival. Within the legal framework, wool traded before the lockdown period can now be exported," he explained.
READ Global fibre demand falters due to COVID-19 uncertainty
The wool value chain not only included the shearing process, but also involved broker services, the wool testing bureau, wool buyers and auctions.
The situation would only return to normal once President Cyril Ramaphosa announced further measures with regard to the lockdown. Producers therefore needed to store wool harvested during this period on-farm for the time being, according to De Beer.
Le Roux Fourie, a wool producer near Brandfort, said although he completed shearing shortly before the lockdown was announced, some of the bales he put up for sale could not be sold because of the moratorium on auctions.
This has had a significant impact on cash flow. The uncertainty about the future was an added cause for concern, he said.
"The entire world economy is under immense pressure [due to the] COVID-19 pandemic. Nobody knows what the future holds for our traditional markets such as Italy and China. We are in a situation of terrible flux."