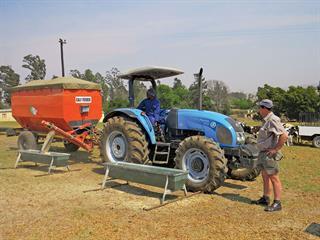 Belying it name, Italia Engineering is a South African company based in Pietermaritzburg. Founded almost 50 years ago by Italian immigrant Aldo Santoro, it is now run by his sons Dino and Lucio.
The company is known for designing equipment to meet the specific needs of its customers. The new Italia calf feeder is no different.
The traditional way of feeding young stock is to fill 50kg sacks, load them onto a trailer and dispense them, a sack at a time, into the feed troughs. But this is time-consuming and requires at least two hands – one to drive the tractor and another to unload the feed.
Italia's calf feeder carries a 3t load and meters it out, neatly and accurately. Only one operator is required.
The feed hopper can be adjusted to suit the height of the trough.
Discharge rate
The discharge rate of the material is monitored by load cells on the axle with the Libra Measuring Instruments display showing the amount discharged in 5kg increments. This allows the operator to dispense the amount specified for each paddock and place the required quantity in each feed bin.
Square axle
The calf feeder has an oversize 80mm square beam axle and 10,50 x 16 tyres. The capacity is 4,5m³ and the discharge rate is up to 25l/minute. Only two hydraulic circuits are required: one for raising and lowering the discharge auger to suit the height of the bin or trough being filled; the other for operating two hydraulic motors in series, the larger driving the bottom auger and the other the discharge auger.
With no PTO drive restricting tight turns the unit is highly manoeuvrable, a boon in small paddocks with a number of troughs. The loan bin is partitioned, allowing two different types of rations or pellets to be carried simultaneously and fed out separately as required.