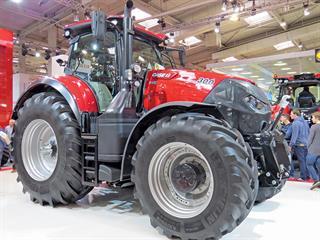 Case IH introduced its prototype Quadtrac in 1992. The company claims that its technology – four independent tracked drives – has created a global trend and that it is an integral part of strategies to improve traction and reduce compaction.
Innovations for 2016 include increased transmission efficiency, new steering with fewer turns required for full lock, automatic differential lock for front and rear axles, and comprehensive lighting options for work around the clock.
The all-new Case IH Optum created a great deal of interest at the fair, offering bags of power in a relatively short wheelbase tractor that is highly manoeuvrable. The continuously variable transmission in the Optum CVX is engineered to handle the high draft loads generated by the 225kW engine.
The new front and rear axle design, a wheelbase of 2 995mm, 2,15m diameter tyres (710/75R42) and a CVT transmission ensure excellent transfer of power to the ground and impressive traction.
Products available in the Advanced Farming Systems (AFS) include operational planning and management of field record systems via yield mapping, application maps, and repeatable guidance lines with 25mm accuracy from swath to swath and from year to year. There are also various options offered by AFS Connect telematics.
The comprehensiveness of the package demonstrates the role played by Case IH in precision agriculture and, in turn, the role now played by precision agriculture in everyday operations.
Improved efficiency and productivity
The header of choice for 12m tramline or controlled traffic systems now has a working width of 12,5m. The Varicut knife makes 1 300 cuts/minute and the knife position can be moved 570mm from a control in the cab.
The 'Terrain Tracker' automatic height control has four sensors. Improvements to the 9240 combine include changes to the straw spreader to better distribute the crop residue over the larger cutting widths. This can be monitored and adjusted from the cab to adapt for varying wind and crop conditions. On 2016 models, the standard unloading system can be equipped with a pivoting unloading spout for precise unloading into the grain trailer.