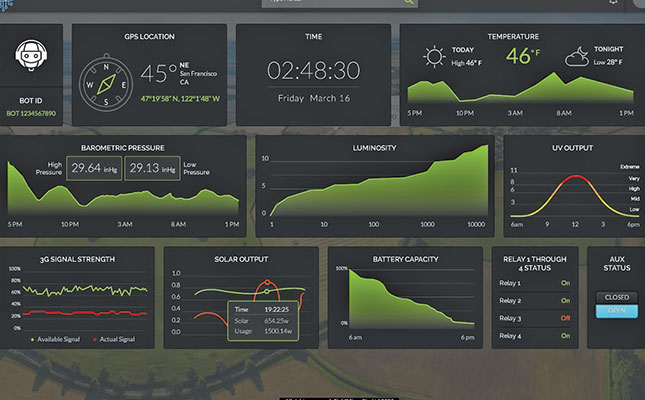 A common complaint from farmers about digital-controlled farm equipment and systems is that they work independently, and there is no way to connect them all in order to simplify operations. New solutions promise to address this problem.
One of the most comprehensive and user-friendly of these farm control and monitoring systems was launched recently by the company FieldMicro. A key element of the system is SmartFarm, a smart technology platform.
The company also announced a partnership with John Deere to provide real-time data to its FieldMicro platform.
Digital eyes and ears
FieldMicro's new system promises farmers "unprecedented control of their systems and hardware" at the press of a button.
Mitch Brownlie, CEO of FieldMicro, says in the statement that the system will "allow crop and livestock farmers to upgrade their farms and utilise the latest smart technology to enhance their operations to save time and money".
SmartFarm is powered by 'FieldBots', portable remote-control devices that connect to farm equipment. Each FieldBot is equipped with a built-in solar panel, a high-definition camera, and sensors that monitor temperature, air pressure, humidity, motion, sound and other parameters.
FieldBots can also be used to control connected on-farm infrastructure, and are compatible with most modern equipment.
Their uses include livestock monitoring and control, opening and closing farm gates, and controlling water troughs, winches, irrigation systems, rain gauges and other items requiring actuation.
The platform allows a farmer to switch valves, monitor tank and moisture levels, view real-time footage and listen to real-time audio.
It also has the capacity to download historical data, so a farmer can leverage the information collected by the FieldBots to make business decisions.
As many FieldBots can be installed as required, and they can all be controlled from the SmartFarm platform on a smartphone, tablet or computer.
Rules can be set for each FieldBot, or multiple FieldBots can be programmed to act together as a node network. Rules can also be set for any piece of equipment connected to a FieldBot, which in turn can activate another piece of equipment connected to a different FieldBot.
Monitoring tractors
FieldMicro has partnered with John Deere to provide real-time data direct to the SmartFarm platform, providing greater insight into the operations and service history of tractors and equipment.
According to FieldMicro, a farmer can see the location and other live data of compatible John Deere machines in real-time on the SmartFarm platform; this includes fuel usage, and fuel, oil and hydraulic levels.
The farmer can then resolve potential problems, make changes, and even protect the machines with geofence and curfew alerts, all remotely.
The SmartFarm location history also allows a farmer to view the path travelled by a machine over any 24-hour period during the previous 60 days, with location, ground speed, heading and machine information.