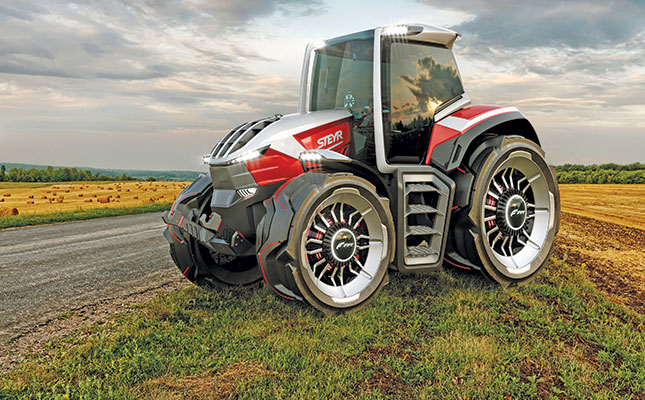 Steyr, a brand owned by CNH Industrial, received the prestigious Platinum Award in the Concept Design category at the recent 2020 MUSE Design Awards Competition.
The awards, which attracted about 3 000 entrants this year, recognise the achievements of design professionals worldwide across a range of disciplines.
According to a statement by CNH Industrial, the Steyr Konzept tractor represents a "distinct departure from conventional tractor design" and combines "innovative technologies in a unique, sustainable and potentially zero emission package".
In addition, each element in the concept tractor is designed to be "functional yet stylish".
The design draws on Steyr's traditional styling cues, but these have been reinterpreted with a futuristic slant. The asymmetrical grille is a striking example.
This vision of how a tractor might look and function in the future is also evident in the cab's minimalist design style, which is complemented by advanced display projection technology.
"Key operating parameters are projected onto the front transparent screens to enhance overall operator visibility and access to at-a-glance information," notes CNH.
"This customer-centric design is focused on reducing operator fatigue and improving overall productivity."
Hybrid Power System
The Steyr Konzept features an innovative series-hybrid power system developed by FPT Industrial, whereby the diesel engine, a compact 4,5-litre, four-cylinder unit, operates as an energy generator and charges batteries.
The engine is not connected to the wheels; instead, traction is provided by four independent electric motors installed in the wheel hubs and powered by the generator/batteries. Depending on the application, the tractor can use up to 10% less fuel than if purely diesel-powered.
According to CNH Industrial, the process to develop the concept model served as an important investigation into the future of tractor design that "blends a unique combination of technologies and functionality into an environmentally friendly, efficient and fully functional machine".