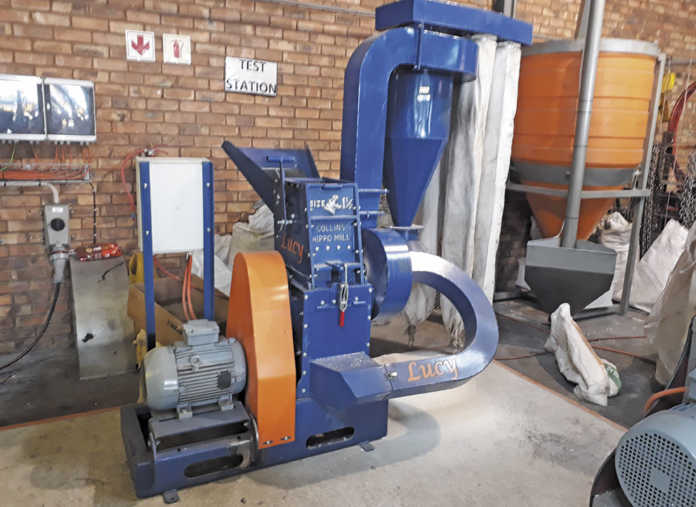 British engineer Arthur Collins immigrated to South Africa in 1892, and settled in Pietermaritzburg five years later, where he set himself up as a millwright and blacksmith.
Although he designed and manufactured several machines, his greatest success was undoubtedly the Hippo hammer mill, which he introduced at the 1928 Pietermaritzburg Royal Show.
The mill was named after Hubert, a hippopotamus that became legendary after covering 1600km in three years as it wandered from Zululand to the Eastern Cape, feasting on maize and leaving its tracks everywhere.
Hubert was eventually declared Crown Game, or protected, but despite this was shot near King William's Town in 1932, whereupon it was discovered that 'Hubert' was actually 'Huberta'.
Hippo Mills has enjoyed an excellent reputation over the past 90 years, and the company has increased its share of the African hammer-mill market, especially against imported mills, which have often proved inadequate in harsh African conditions.
Rugged construction
Bolted components, rather than welded construction, and cast-iron wear parts, are features of the Hippo mill.
Another attribute, unique in hammer-mill technology, is the mechanically controlled intake; this allows the mill to slow the input when the speed drops and increase it again when the fan picks up speed.
Dust is often a problem for hammer-mill operators, but Hippo Mills has met this challenge with specially designed cyclones and a dust filter manifold devised for each model.
Very little dust escapes at the bagging point.
Royal celebration
At the Royal Show this year, ABC Hansen, the manufacturer of Hippo mills, intends holding a special function to celebrate Hippo's 90 years.
Anyone who has ever owned or still owns a Hippo mill can visit hippomills.co.za and share his or her unique Hippo experience.
These stories will be entered into a competition for the most interesting or unusual tales about Hippo mills.
The finalists will be taken to Pietermaritzburg by ABC Hansen on 26 May, where they will be special guests at the handing over of a Hippo mill to the community or establishment selected by the winner.
Joe Spencer is the mechanisation editor of Farmer's Weekly.
For more information on the equipment in this report, email him at [email protected]. Subject line: Equipment.