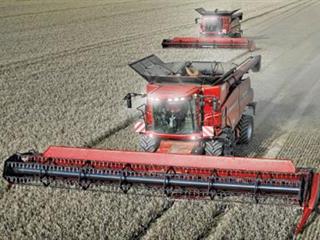 The new Case IH Axial-Flow combines introduced at the Agritechnica Show in Germany, are available in two series. The 230 replaces the old 20 Series, while the Series 130 replaces the 88. The 230 Series consists of three models, the 7230, 8230 and 9230, with maximum power of up to 428kW and grain header widths from 7,6m to 10,7m. Grain tank capacity goes up to 12 330l, thanks to hydraulically folding extensions.
The unloading rate of the 9230 is 157l/second and the tank has two cross-tank augers that can be controlled independently of the vertical and unloading augers. This allows the unloading auger to empty, reducing the overhang weight and the load on the auger transmission at start-up.
The 130 Series also comprises three models. The 5130 is fitted with a new 6,7l Fiat Powertrain Technology (FPT) engine and the 6130 and 7130 combines with 9l FPT engines. Maximum power is 219kW, 290kW and 311kW respectively. An additional 25kW is available for unloading on the 6130 and 7130 models.
The technical heart of the series is still Case IH's Axial-Flow, but the technology has been adapted to meet changing harvesting conditions. In addition, the Selective Catalytic Reduction (SCR) system has high thermo-dynamic efficiency. Field trials show possible fuel savings of up to 10% compared with conventional engine technology. Northmec, Case IH's South African distributors, expects the first deliveries in May, hopefully in time for Nampo.
At the touch of a button
Settings for the new threshing rotor can be adjusted at the touch of a button to deal with varying harvesting conditions and different crops. Thanks to Auto-Crop Setting technology, rotor speed is infinitely variable from 220rpm to 1 200rpm. The sieve clearance and threshing gap are also automatically controlled.
Excellent maize threshing
Maize headers of up to 12 rows, with rigid or folding frames, are available for the new combines. These feature the Case IH high performance cob stripping system with individual overload protection on each row.
A chopping rotor underneath the stalk rollers on each row can be switched on or off as required. The header rows can have sensors with mechanical feelers that reduce driver fatigue when working in high density crops.

Tracks are an option
The high traction, high flotation track technology used on the Case IH Quadtrac tractor is now available for the new combines. Reduced ground pressure and improved traction help protect soil structure and micro-organisms in both dry and damp soils.
With 610mm-wide tracks, the overall width of the combine doesn't exceed 3,5m, road speed can be up to 20km/h and rubber-coated running wheels with rubber dampers ensure a smooth ride.