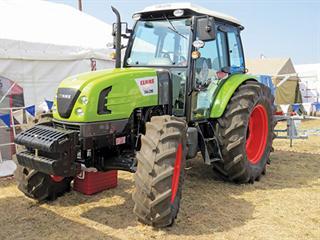 Claas, a family-owned company founded in 1913, is one of the world's top manufacturers of agricultural equipment. Its products, ranging from combine harvesters and tractors to hay-making equipment, are now distributed in South Africa by the Kempston Group. Some of the company's machines, such as the Claas Tucano 470 and 480 combine harvesters, are currently available at special prices.
The Tucano features the Roto Plus system, a key component in this highly competitive combine. The APS single-rotor technology significantly reduces fuel consumption. The Tucano boasts a large, comfortable cab and multi-function lever control, a 9 000l grain tank and a 240kW Mercedes-Benz engine.
A popular, powerful, general-purpose tractor
The 240 is the top of the 35kW to 70kW Talos range. Designed and built for hard work, these powerful, yet compact tractors can handle a wide variety of year-round tasks, from tillage to harvesting. They can be used virtually anywhere and are easy to operate, thanks to the simple yet ergonomically efficient cab layout. This makes it easy for any driver to get the best out of the tractor without a lengthy instruction period. The 240 has the deluxe cab as standard. All the other models in the range are available with either a cab or roll bar.