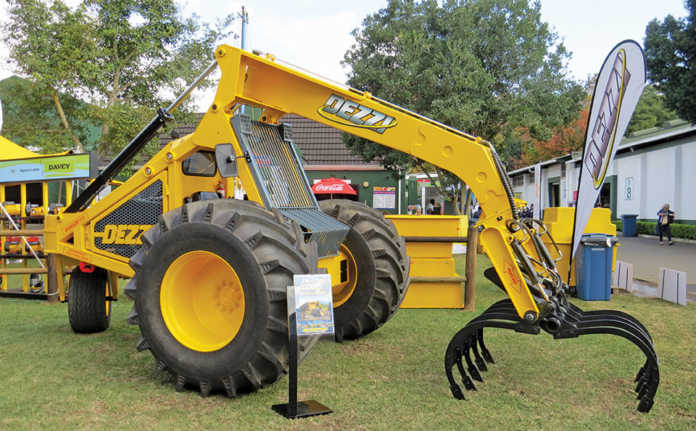 1 Dezzi three-wheeler cane-loader
The rugged new three-wheeler cane-loader (above) from Desmond Equipment is true to the company's motto, 'Built Africa Tough'. It is fitted with large 800/55-30.5 front tyres and a high flotation 400/60×15.5 rear tyre to reduce compaction. Power comes from a 46kW Deutz F4L912 engine.
2 Massey Ferguson 2125F RB
This was the first showing of one of Massey Ferguson's recently acquired line of round balers. The 2125F RB fixed-chamber baler has 18 Powergrip rollers and a mechanical tailgate lock, ensuring consistent bale shape and density. A two-stage protection system helps prevent blockages while working at speed.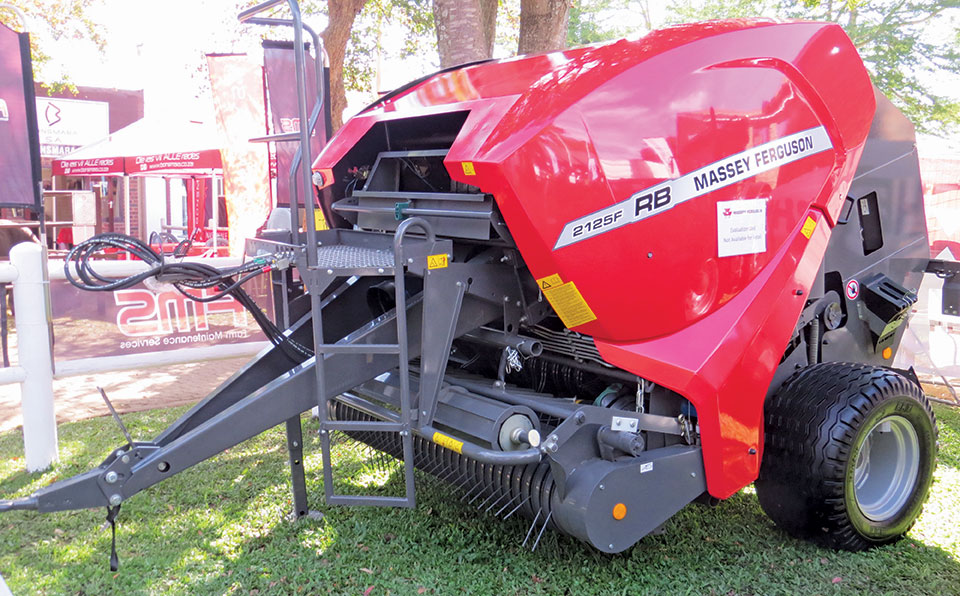 3 Holmac HZC30 tree-digger
The HZC30 tree-digger from Viking Agricultural, based in Edenvale, Gauteng, can lift the root ball vertically out of the ground. Other features include 35° displacement of the blade/vibrator on each side, a patented independent opening/forwarding track system with centralised greaser, and a hydraulic system to ensure more rapid movement. The holder arm is adjustable, enabling it to accommodate cutting blades of different sizes.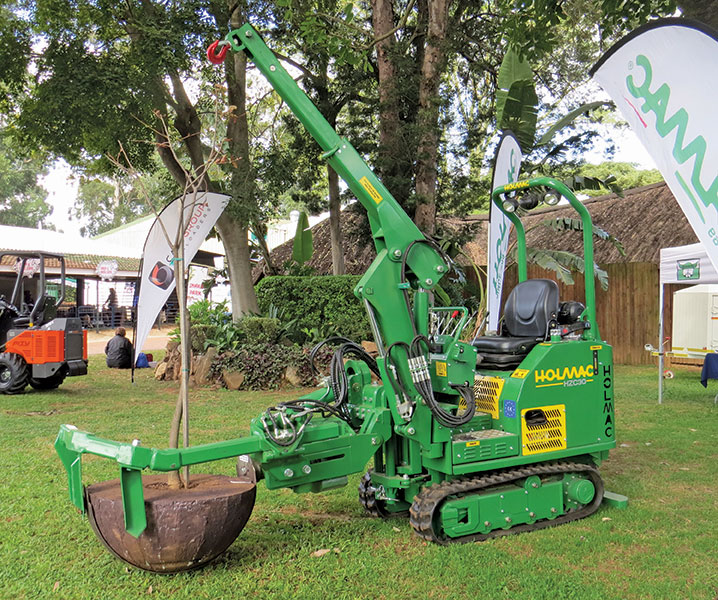 4 King WL130 TMR feed mixer
The new King range is the latest design in the evolution of the trailed horizontal total mixed ration feed-mixer. The main feature, other than the self-loading facility, is the patented Free Flow Mix 2+2 horizontal auger system. With its counter-cutting bar, the WL130 can cut and mix entire bales of forage or straw, wet materials and any other ingredients of the ration, even part loads.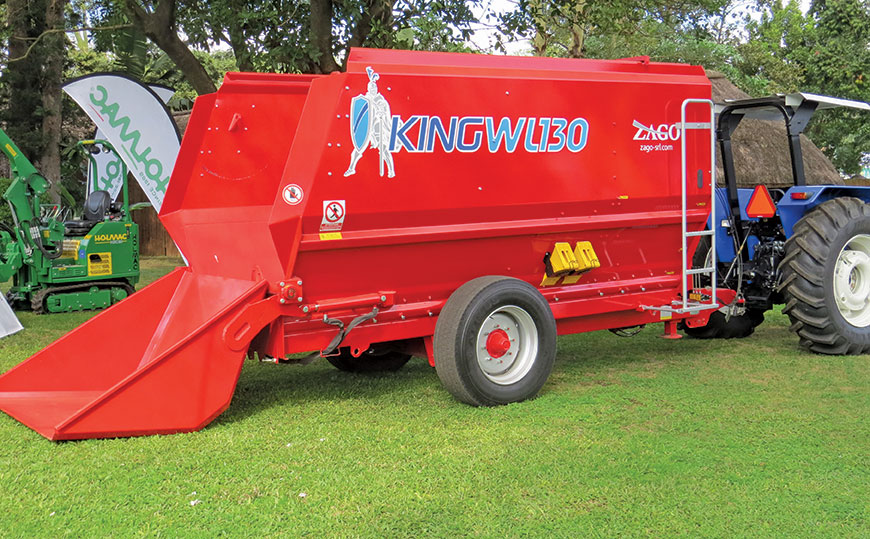 The Free Flow Mix shredding-mixing system shreds efficiently, cutting the material cleanly to selected lengths to suit the requirements of specific livestock.
5 Cast mini-loader 35T
Assisted by its compact size, which is only 1,2m wide and 2,3m long, the Cast mini-loader 35T is highly manoeuvrable and ideal to operate in confined spaces. It is powered by a 28kW three- cylinder Isuzu diesel engine and has hydrostatic transmission and 4WD. Attachments can be swopped easily, thanks to an exclusive coupling plate system.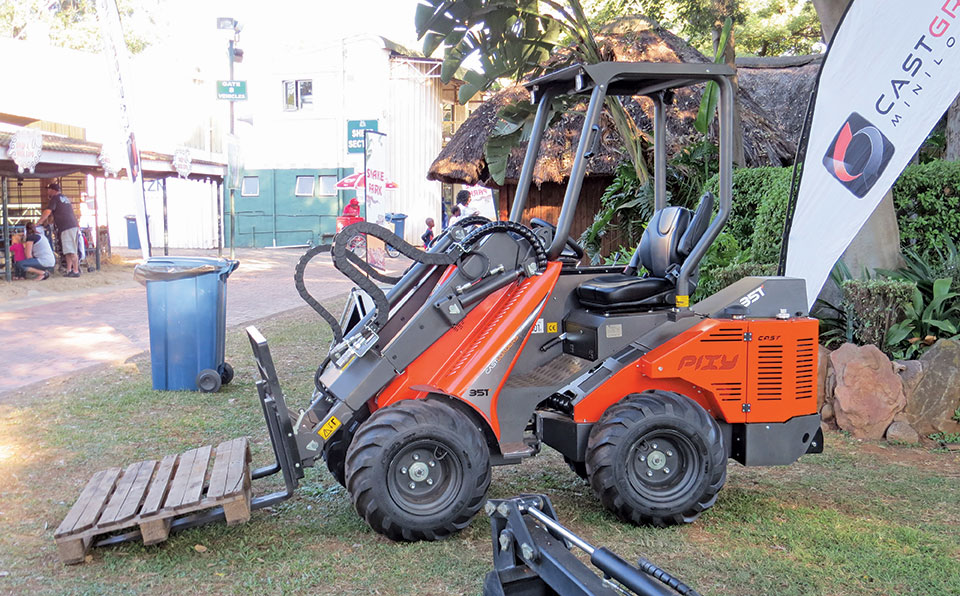 6 ABC Hansen 400 pellet mill
In addition to its legendary Hippo mills, ABC Hansen manufactures a wide range of equipment for processing grains, including the MPEL plate mill seen here. The simplified flat die system of this multipurpose pelleting press is long-wearing and replacing it is inexpensive.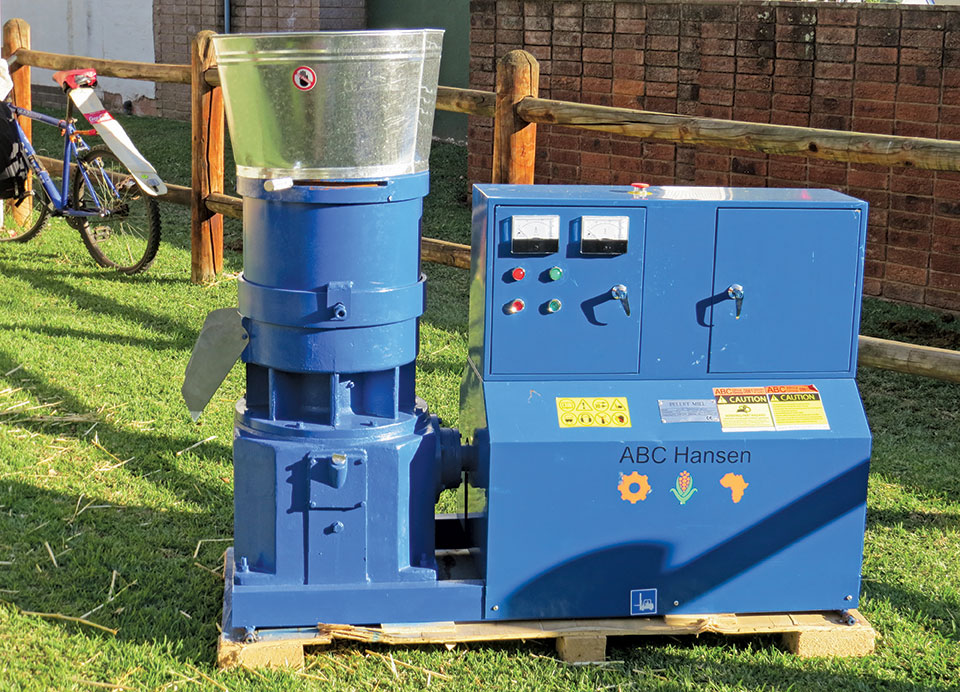 Power is transferred via a single direct-coupled gearbox mounted in a cast housing. A cutting mechanism integrated into the mill shaft provides pellets of uniform length. Steam treatment can be added to produce firmer, more commercially acceptable pellets.
7 Jupidex 870 mini-baler
This mini round baler, now on the South African market for several years, is simple to operate and trouble-free. It can handle wet and dry material, producing 610mm x 700mm bales at a rate of up to 100 bales/h. The integrated hydraulic system is powered by the tractor PTO independently of the tractor's hydraulics. It requires a tractor with an output as low as 22kW up to 60kW.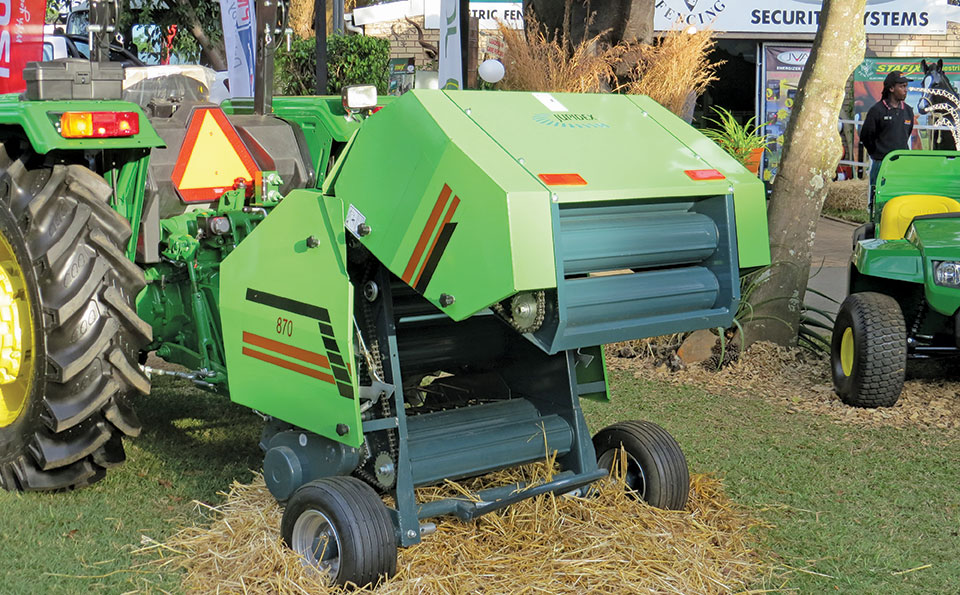 8 Orthman 4-row 1tRIPr strip-tillage system
The Orthman 1tRIPr created keen interest when it was introduced in 2001. Its extraordinarily effective operation soon made it popular in South Africa.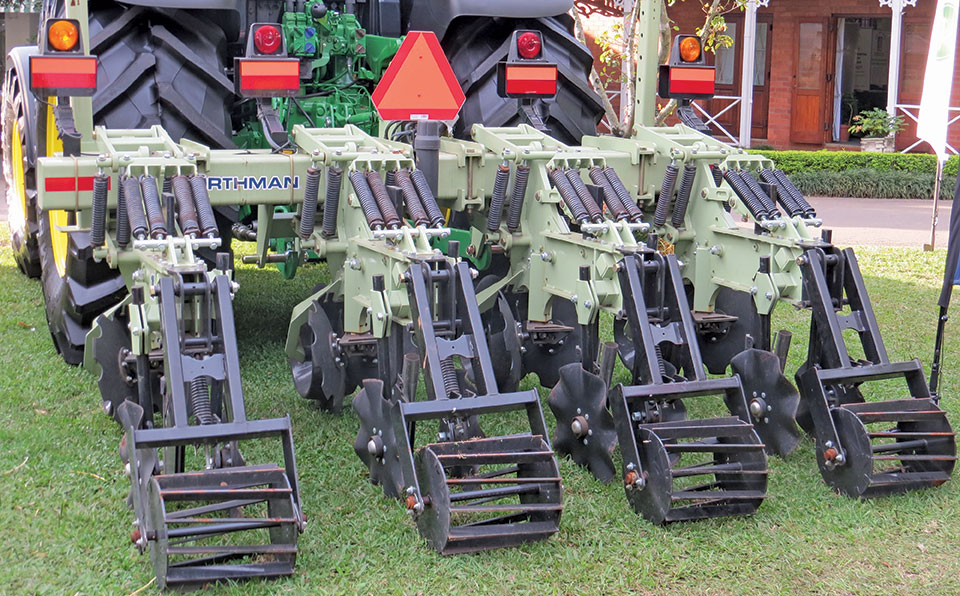 9 AgriShalom's mobile kraal
This unit, manufactured by AgriShalom of Bloemfontein, can accommodate up to 60 head of cattle. It has a 6m working crush with neck clamp, 11 fence sections and two gates. The trailer, which has an adjustable loading ramp, transports the entire set-up.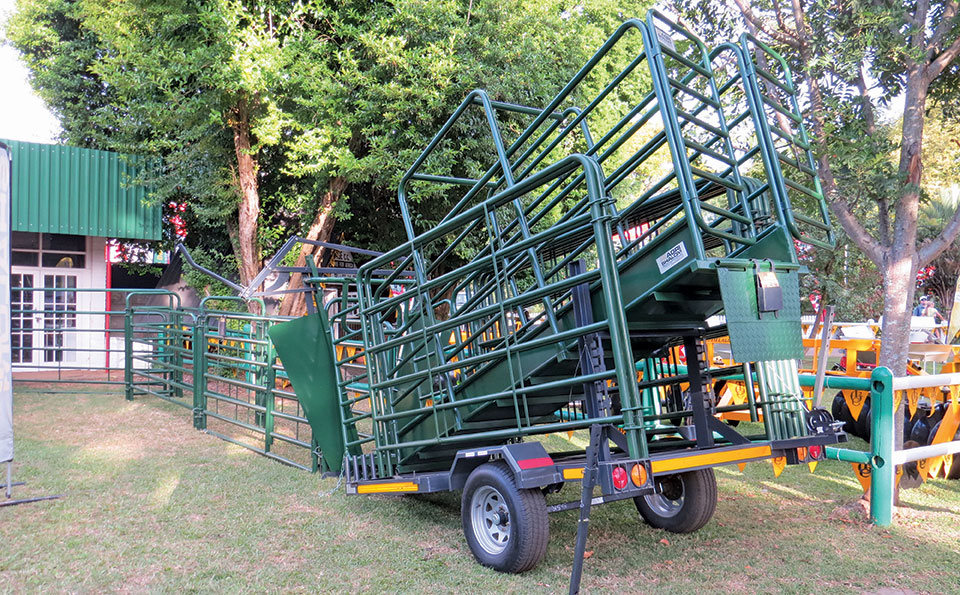 10 'Half-size' Cambridge roller
Never underestimate the value of the tried-and-tested Cambridge roller. The design was patented in the UK in the mid-19th century by William Cambridge of Bristol and, other than an improvement in the bearings, has changed very little over the years.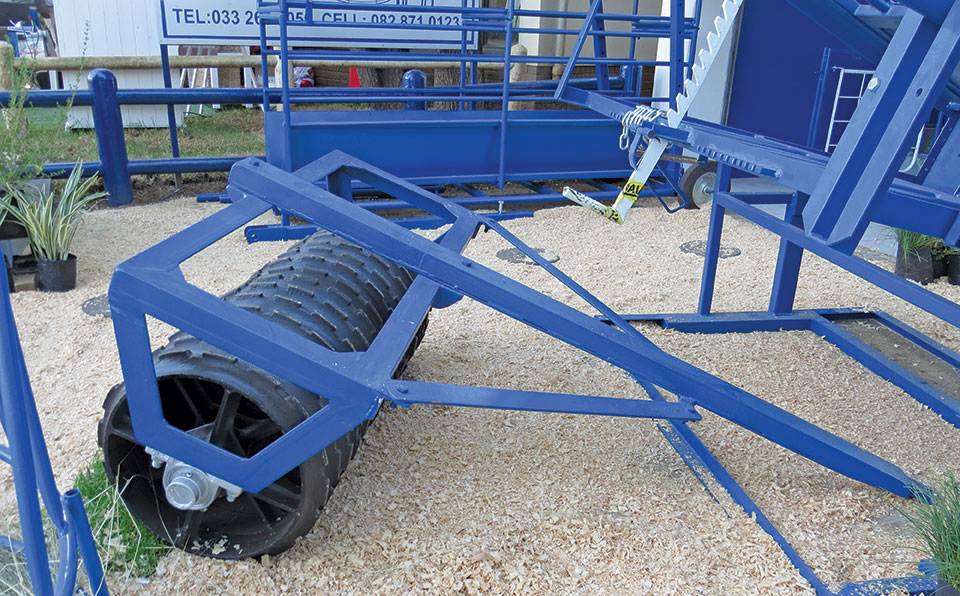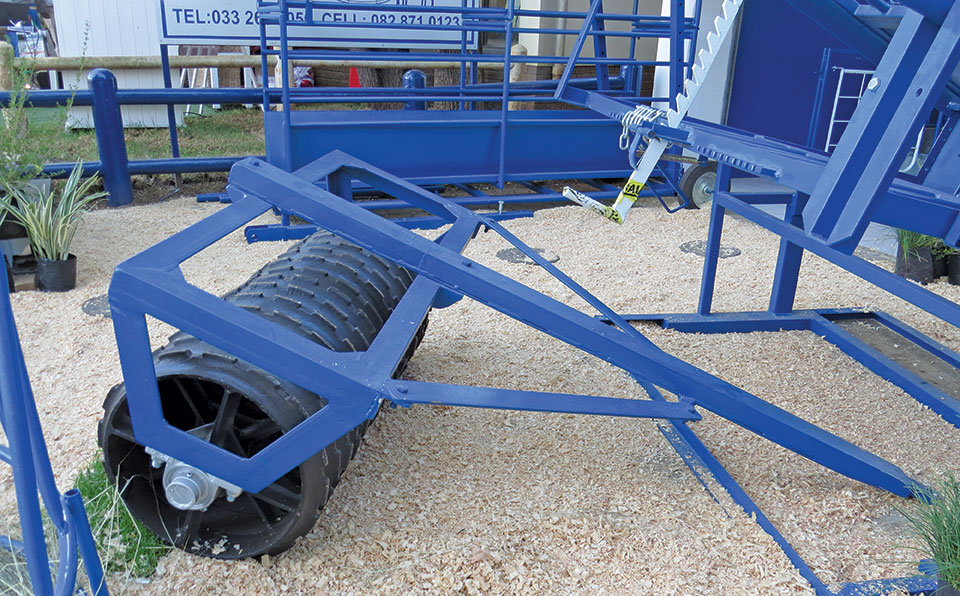 And little wonder; it helps create the perfect seedbed and is ideal for consolidating the soil after planting. This example shown here, made by NMR Engineering of Mooi River, is half the width of the company's traditional model, making it suitable for the smallest tractor.
11 KZN Agriserve's ridger/fertiliser applicator
The application rate of the Pitman drive fertiliser metering system is easy to calibrate and adjust, and is remarkably accurate. This unit is manufactured by KZN Agriserve in Pietermaritzburg.
12 Ritlee TRF400E hammermill and shredder
Ritlee's new range of electric- and engine-driven combination hammermill shredders is suitable for shredding garden waste or for grinding grain, maize or many other products. One customer uses it to grind chocolate, samples of which were exhibited with the mill. The TRF400E on display here has a 1,5kW electric motor and can chip material up to 25mm in diameter.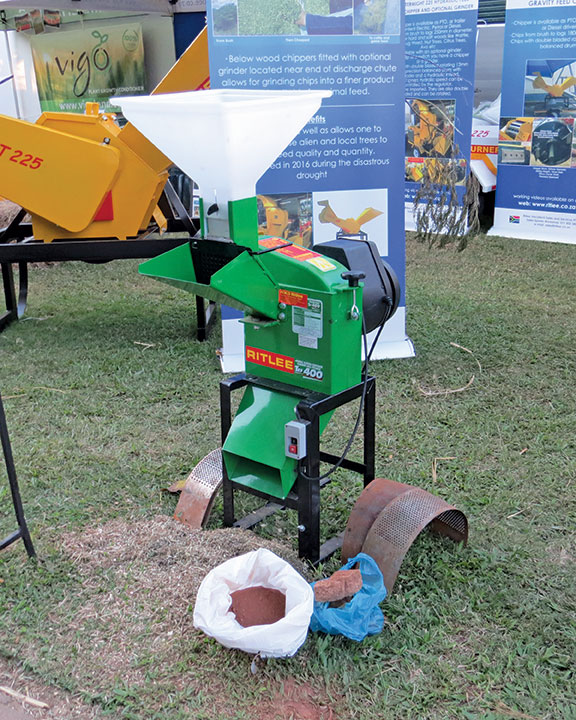 Joe Spencer is the mechanisation editor of Farmer's Weekly.