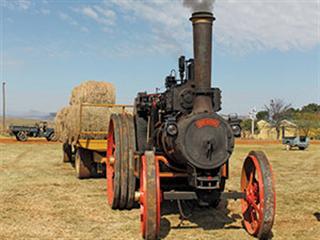 Wilfred Mole has the largest collection of 0,6m narrow-gauge steam locomotives in the world and dedicates much of his 3 500ha commercial farm to housing them, along with vintage tractors and military vehicles. But he is quick to explain that he never collects a piece of machinery if it's safe from decay. "I only take it in if it's at the point of being destroyed. I simply don't have the space to keep everything.
But if it is brought here, it's restored to working order. Many of the vintage machines are put to work on the farm hauling compost, gravel or transporting the harvest. "Half the fun is tracking these things down," admits Wilfred. "And the more difficult the expedition, the better the reward. When I'm done, I'm not sure what to do with myself until the next chase." He believes the best fun to be had is to go to a place that has been out of bounds for decades. "You won't believe the treasures you find," he says.
Angola
Scouting in Angola after the civil war provided him with one of his favourite locomotives – and the adventure of a lifetime. "In 2003 I went to every railway in Angola to find a Decauville locomotive dating back to 1899. Records showed that it was in Angola and had been used on a sugar estate. We showed people photographs and asked if they had seen it," explains Wilfred.

Wilfred and Linda Mole. Click on the photo to view the photo gallery.
"It became a race against time because when the war in Angola ended we realised we had to find this train before it was discovered by a scrap metal merchant. I had people fly over Angola and take photographs of the railway line. We followed it and tracked down the train shed. I knew I would find something there. "But because the country had been at war I was also aware that the whole place would be rigged with landmines – if you want to cripple a country, blow up its transport system. So we had to be extremely careful when we went in. "We managed to get the Unimog to the shed and loaded the train. Finding it was a wonderful reward for three months in the bush."
Treasure trove in Mozambique
Wilfred also recalls finding steam engines in Mozambique in such remote parts of the country that they had to be floated on a barge down the Zambezi River to get them out. "I left home empty-handed and came back with 35 000t of machinery. And I met the most incredible people along the way. I often recall visits with some farmers more frequently than the actual machinery I brought back from the trip."
Nowadays, however, the treasures tend to find Wilfred. "England has 72 narrow gauge railways, but we don't have any that are working. So there's very little competition for me. I'm actually operating in a vacuum. Museums are closing down and collectors are dying. It's quite depressing."
Sharing the collection
Wilfred started the Great 100 Working world record attempt for vintage tractors. The idea came about after attending a tractor exhibition in Clocolan. "All the tractors were standing idle in the yard and the drivers were sitting in the bar," he recalls. Wilfred felt there was no point to the exhibition if the tractors were not being driven, but after making his point he was promptly chased away.
"So I said I'll do it myself!" he grins. "The first attempt saw 99 tractors working a field simultaneously. The Australians responded with just under 200 tractors. "Not to be outdone, we came back with 797 tractors in 2002. "Then things really got interesting, with the Irish beating that record with nearly 2 000 tractors." Events such as the Stars of Sandstone took shape after that first Great 100 Working because, as Wilfred points out, it's the only way to 'share' his collection.
Approximately 70% of the festival-goers come from overseas. "We were sad to see that the Heritage Railway Association of SA was not represented at all," says Wilfred. "South African preservationists should take a moment to consider that Australian, American, British, Belgium, German, New Zealand and many other nationalities were well represented.
"Heritage projects like this only survive if people support them. There's far too much verbiage about preservation and not enough direct involvement by enthusiasts." There's certainly no lack of enthusiasm from visitors to Sandstone Estate. No fewer than 15 train drivers arrived from abroad to drive the engines that make this event so special.
All the fun of the festival
Scattered across the yard are men fiddling with engines, driving vintage tractors and reliving the glory days of steam. Every few minutes a train passes by, the driver hanging out the side. Wind is blowing through his hair and he has soot on his brow. "There's something fascinating about the sound and smell of steam trains," says Simon Mayor, a British IT consultant. He has been driving them for 12 years and tries to drive as many trains in their original surroundings as possible.
Over his shoulder, a team of would-be engineers has been struggling all morning to get a Rumely Oil Pull tractor going. Raymond Hohls, a visitor from the School of Armour in Bloemfontein, chuckles. "They've been at it since yesterday. Just watch, they'll get it going. They take their toys seriously!"
Contact Wilfred Mole at jo[email protected] or visit www.sandstone-estates.com