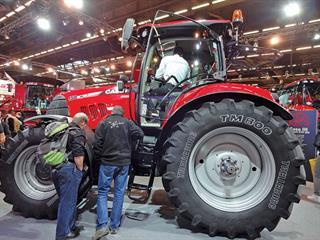 Case IH gave centre stage to its agricultural equipment machinery for the sugarcane industry at SIMA 2015. One of these was the Austoft 8000 series of sugarcane harvesters, with new features that improve their already outstanding performance. Autotracker, unique to Case IH, helps to reduce sucrose loss and root damage, while SmartCruise lowers fuel consumption and helps to cut down on maintenance.
Also on display were the Case IH Puma tractors, which use 'cleaner' engine technology to maximise performance at lower fuel consumption. "The system is simple and efficient, and enables Case IH to achieve engine oil change intervals of 600 hours," said Dan Stuart, product marketing manager for Europe, the Middle East and Africa.
Another Case IH innovation is the Magnum 380 CVX in both wheeled and Rowtrac versions.
"After the distinction of being named 'Tractor of the Year 2015' at EIMA in Bologna last Autumn, the Magnum has now been awarded 'Machine of the Year 2015' at SIMA," said Stuart. Farmall, Maxxum, Puma and Quadtrac tractors as well as an Axial-Flow combine added to an impressive overview of the Case IH range.
Improved precision management
"SIMA 2015 offered an excellent opportunity to present our next-level precision farming system: the AFS RTK+ and the enhanced AFS Connect telematics with file transfer technology," said Matthew Foster, Case IH vice-president for Europe, the Middle East and Africa. According to the company, the RTK+ correction service and the new file transfer function help farmers manage their farms, lands and machines with greater precision and more efficiently, producing 'more with less'.