John Deere's new S-Series combines come with an expanded range of wider 600 Series maize heads and new flexible draper platforms. The range, available in South Africa for the 2012 harvest, comprises five models – the S550, S660, S670, S680 and S690. Engines rated from 202kW to 405kW provide exceptional harvesting power and performance.
The S690, with 405kW at rated speed, and power peaking at 462kW, is claimed to be the most powerful machine on the market. "The series features cleaner-burning fuel-efficient engines while increasing overall combine capacity," explains Roger Maes, product manager, John Deere Harvester Works. A redesigned cleaning system with a newly engineered cleaning shoe delivers 33% more capacity and the variable stream rotor is a new option that improves straw quality in rice and high-yielding small grains.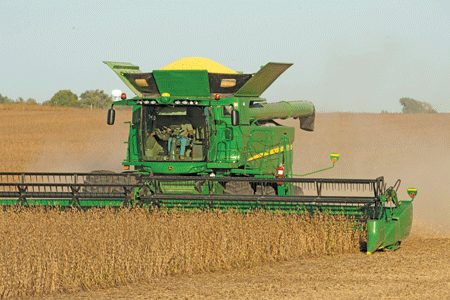 Also new is the Premium Residue Management System, which provides more uniform material distribution, windrowing straw for baling while spreading the chaff, with a wind compensation feature. The 14 100l grain tank (standard on the S680 and S690) is the largest in the industry and can unload at 135l/second.
This means a full tank can be unloaded in less than two minutes. These two models also feature the Active Tailings system that increases threshing and separating capacity by 8% to 10%. •FW