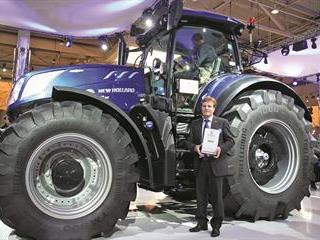 New Holland has expanded its tractor range with the introduction of the T7.290 and T7.315, recipient of a 'Machine of the Year' award at Agritechnica. The new models fill the need for a tractor combining increased power, manoeuvrability and versatility to perform efficiently in a wide range of tasks. They are ideal for row crop work, baling, mowing, hauling and other demanding chores.
The T7.290 and T7.315, feature New Holland's revolutionary Intellicruise tractor-baler automation, which allows the New Holland BigBaler to control the tractor's speed for maximum productivity and bale consistency.
T6 range
Also on display at Agritechnica was the company's T6.175. The range comprises five models, from the T6.145 (87kW) to the T6.180 (131kW). New Holland's T6 Auto Command won the 'Boerentrekker of the Year' award in 2014 in the Netherlands for its intuitive operation and high comfort level. It features the award-winning SideWinder II armrest, which hosts the most frequently used controls, and the Horizon Cab, which has outstanding visibility in all applications.
T5 range
New Holland's T5 series tractors were built after extensive research into customers' needs. The range comprises the T5.95, T5.105 and T5.115, powered by engines rated from 74kW to 85kW. These tractors offer outstanding visibility, an ultra-comfortable cab and market- leading performance in the segment.
TD5 range
The four models in the TD5 series – the TD5.85, TD5.95, TD5.105 and TD5.115 – are powered by a new 3,4-litre engine developed by FPT Industrial and rated from 64,5kW to 85,5kW with up to 457Nm of torque. Also upgraded is the cab, which is particularly comfortable and provides excellent visibility when operating a loader. These tractors are already available on the SA market.