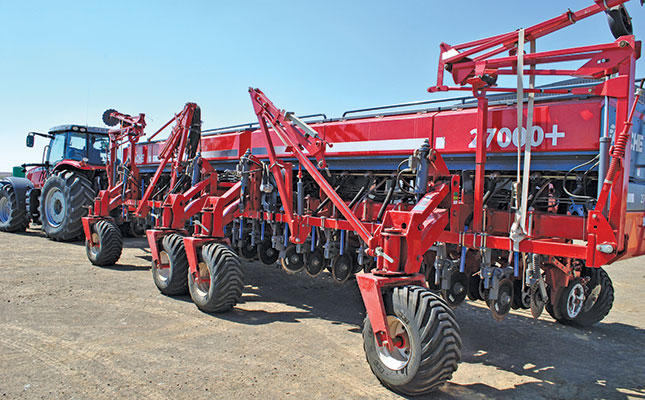 Argentina's farmers are world leaders in the implementation of no-till and conservation agriculture practices. Farmers in Argentina first started conducting no-till farming trials in 1977.
These days, approximately 92% of crops in that country are cultivated using this system, and farmers have developed solutions aimed specifically at getting the best results from these cultivation methods.
South African farmers who practise no-till or other types of conservation tillage, and
those considering switching from conventional tillage, had the opportunity
to see some of the most popular Argentinian no-till equipment on display at a farmers' day in Standerton.
The event was hosted by, among others, Argentina's National Institute of Agricultural Technology and Argentine Federal Investment Council.
Coarse grain
One of the machines on display was the Apache 27000+ no-till coarse grain planter (main image), which has been on the market for a number of years. The planter features variable row spacing up to 36 rows at 52,5cm spacing, and can be used for a variety of crops, including maize, soya bean, wheat, sunflower and sorghum.
The planter has a strong tubular mainframe with front tool bar. The row unit has a sturdy articulated parallel linkage with two side, semi-pneumatic gauge wheels.
It is equipped with turbo, dura flute and rippled coulter blades to cut residue in the row during the single-pass planting action. Two boxes, for seed and fertiliser, are fitted, and there is an optional extra front box for double fertilisation.
Fine grain
The Apache 54000 fine grain no till planter with fertiliser applicator (below) enables a farmer to plant three different row spacings with one planter. This means that cover crops can be planted without having to add an additional planter. The Apache 54000 comes with staggered planting units with row widths of 17,5cm, 35cm and 52,5cm.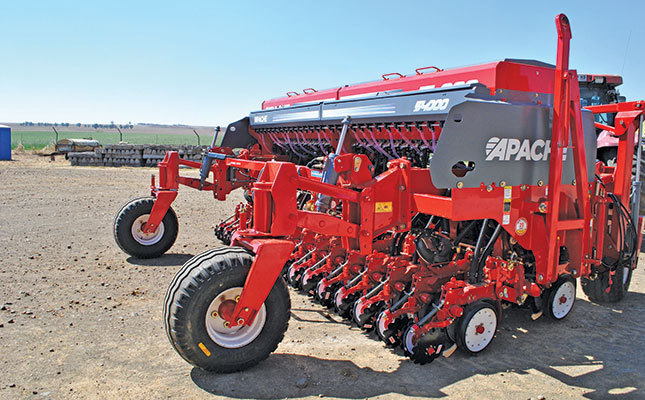 The machine sows seed at a steady flow in lines using the chevron wheel-type meter. It features self-aligning wheels (360°) with individual locks and 400/60 x 15,5 high-flotation tyres, with a stabilising hydraulic system and a clearance of 40cm.
The row units are fixed by means of articulated parallel arms with a spring-loaded and individual locking system.
The mainframe is a strong tubular structure with a front blade supporting bar and two (front and rear) row unit supporting bars that can be removed.
The planter's 406mm coulter blade cuts and removes the residue in one pass. The rate of fertilisation can be adjusted mechanically by means of the variable gearbox. Fertiliser is applied in the seeding row.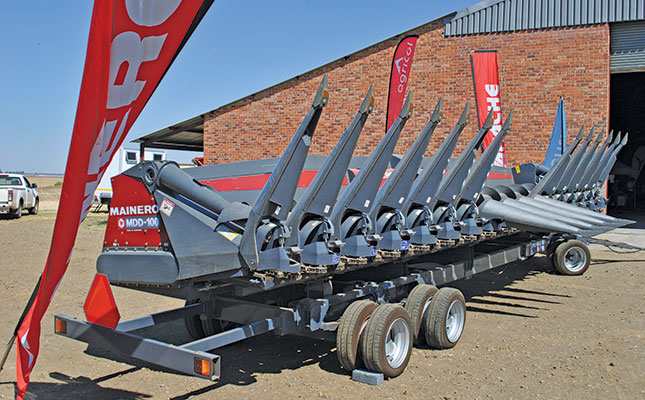 The Mainero MDD-100 (above)) is an independent maize header that allows for multiple row spacings during grain harvesting.
The header features a fixed spacing of 525mm between gathering units, but can be operated with multiple spacing between rows without the need for any adjustment, modification or adaption.
Husk rollers
The husk rollers are efficient under a wide variety of crop conditions and the pickup chains are positioned to enable easy entrance for the stalks.
According to the manufacturer, the header can even be used on downed crops while keeping loss levels at a minimum and without ground speed restrictions.
The new, shorter snouts are mounted further to the rear than the previous heads, enabling the row unit gathering chains to work further ahead with a gentler action.
The open-sided snout design means that the maize stalks stay attached to the ground and are then gently eased over rather than broken off as with a conventional snout.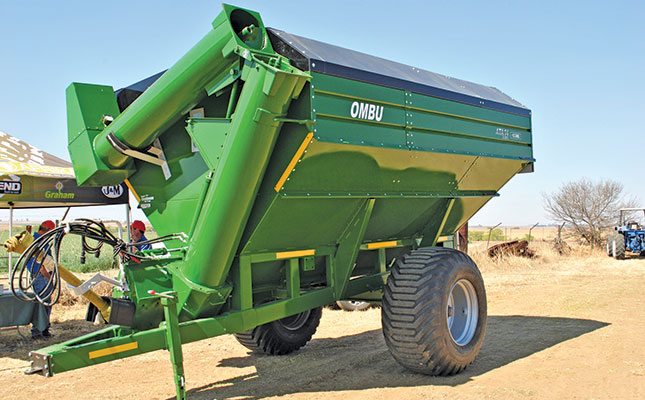 Also on display was the Ombu ATA14 self-discharging hopper (Above), which has a carrying capacity of 17 500ℓ. The hopper has a 480mm longitudinal auger that feeds the harvested grain to the trailer at a rate of 26t in three to four minutes.
The overload gutters are mounted on the front of the tugs. This enables the operator to see them clearly, ensuring that the cargo can be loaded safely to the trailer without wastage.