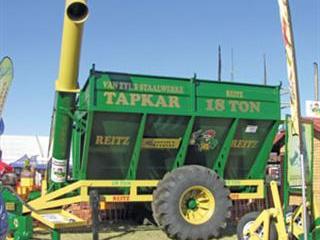 Nampo Harvest Day once again highlighted a number of South African companies that can compete with the best in the world:

Turner TL-170-C harvester: Turnerland Manufacturing makes potato equipment especially suited to local conditions. The unique gradient scissor action of the wheel-frame on the TL ensures the best bed angle for efficient soil/crop separation is maintained at all times. The slope of the digging and second web is adjusted hydraulically to achieve maximum sieving action with minimum damage to the crop.
Pampoen Planter: From Michris Janse van Rensburg, this is for farmers who need a simple tractor-mounted machine that can accurately plant pumpkin seeds. Spacing is adjusted by changing the sprockets on the chain drive. The operator manually places one or two seeds in each of the rings and the machine does the rest.
Agrico T1250 ripper: Has a breakaway force of 12 500N (1 250kg) and can greatly assist drainage in problem soils. As the designation implies, frame clearance is 1 250mm. Working depth is from 600mm to 800mm.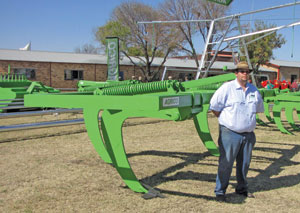 Piket no-till planter: Made at Carel Van Niekerk's factory in Piketburg in the Western Cape, this latest version of the Piket No-Till planter is popular with grassland farmers for re-seeding established pastures and sowing fine seed crops such as teff, lucerne and ryegrass. It's also used to plant grain crops such as wheat and oats, as well as canola, rice and soya beans.
Jupidex 18t Graincar: Van Zyl's Staalwerke markets this 18t chaser trailer through Jupidex. Unloading capacity is 3t/minute through a hydraulically-powered 400mm auger that can also be folded hydraulically. Tyres: 800/50 – 34.
Agri-Phyto's DBXtreme 8-row planter: Agri-Phyto had an 8-row planter at Nampo, with disc coulters for residue management that sell at very competitive prices.
Leo 2104: The 2104 horizontal mixer has a capacity of 4m³ and can mix 1 000kg of concentrates or 750kg of TMR.


Left to right: The DBXtreme 8-row planter; The Piket No-Tilll planter; The Jupidex 18t Graincar