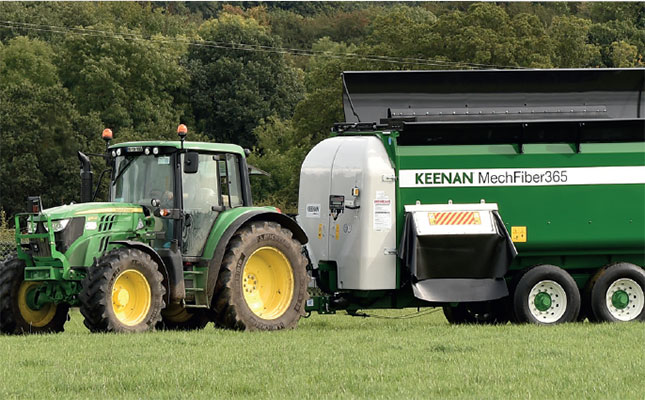 Ireland-based Keenan, a world leader in the manufacture of high-quality feed mixer wagons, was honoured by the Carbon Trust for its proven capacity to reduce on-farm methane emissions.
The Carbon Trust is an independent organisation that helps businesses worldwide reduce their carbon footprint through resource-efficient strategies and commercialisation of low-carbon technologies.
The reduced methane output of the Keenan equipment is made possible due to improved feed conversion efficiency.
The Carbon Trust established that Keenan machines and software solutions can contribute to an increase in rumen efficiency by delivering feed that is more easily digestible by cattle, meaning that less energy is required and produced by each animal.
"The animal food supply chain is faced with growing pressures to reduce methane and carbon dioxide emissions," says Matt Higgins, general manager of Keenan.
"As concern for our planet's finite resources escalates, we have a responsibility to be proactive in sourcing solutions and partnerships that can relieve environmental strain and prioritise sustainability on-farm."
Optimised diet formulation relies heavily on the physical feed mix delivered to the animals.
This needs to be delivered consistently every day to enable farms to achieve their production goals while enhancing the efficient use of the feed.
The unique engineering features and mixing action of Keenan's machinery and its software deliver a mix with the correct chop type and length, fibre type, and consistency.
Keenan mixer wagons with advanced software
Keenan feed mixers feature a two-chamber system – a mixing chamber and a separate discharge chamber – together with a six-paddle reel and patented fixed blades at the bottom of the mixing chamber.
The machines use a gentle mixing action to produce light, fluffy feed that is evenly and thoroughly mixed.
Keenan mixer wagons are fitted with InTouch, a feed management platform that combines the latest in feed management software, mixer wagon controller technology and input from feeding specialists to ensure feeding accuracy and optimal animal performance.
InTouch feed management software is used to formulate and optimise rations. Using Internet cloud technology, these rations are sent directly to the controller on the mixer wagon.
Using all the information recorded on-farm each day, a farmer can generate weekly or monthly feed usage and accuracy reports to monitor stock and feeding accuracy.
Production figures, including milk yield, milk price and dry matter intake, can be used to generate ration performance monitoring reports, giving further insight into herd performance and management, feeding costs and profit.