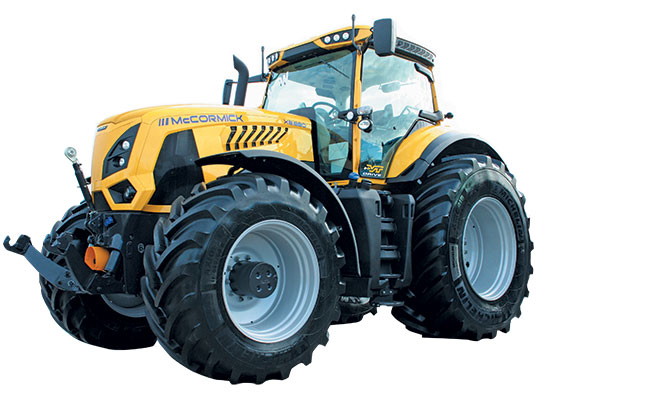 Available in three models, with power outputs of 190kW, 199kW and 221kW respectively, the McCormick X8 VT Drive takes this well-known brand into new territory.
These big tractors are ideal for ploughing, cultivating and powering heavy mowers and other harvesting machinery.
Their size and weight also make them suitable for road work, pulling large-capacity slurry tankers, muck spreaders and trailers.
Key features include a heavy-duty constant velocity transmission providing precise speed control and different operating modes for optimum performance and fuel efficiency.
Also part of the package are electronically controlled hydraulics with 157ℓ/min or 212ℓ/ min load-sensing pumps with 115ℓ/min dedicated to the steering and ancillary systems.
An integral front three-point linkage and PTO assembly on the cast steel load-bearing chassis complements the 12t- capacity rear linkage, while rear tyres up to 900/60R42 enable the tractors to operate with low inflation pressure for maximum traction and low compaction.
The McCormick Premiere cab features in top spec form on the 'Premium' versions of the X8 Pro Drive and VT Drive tractors.
This provides a comfortable workspace for long hours in the seat, with excellent all-round visibility and ergonomic control of functions via a seat-mounted console and touch screen colour display.
Precision steering using satellite-based positioning and a high-ratio EasySteer system are optional.
New, smaller six-cylinder model
The McCormick X7.650 PS-Drive, a new lower-powered version of the six-cylinder models, with a long wheelbase and tough cast chassis, was also on display at the LAMMA Show.
Rated at 118kW, it joins the X7 range, which now features four models: 105kW, 118kW, 138kW and 156kW with Power Plus on the X7.680.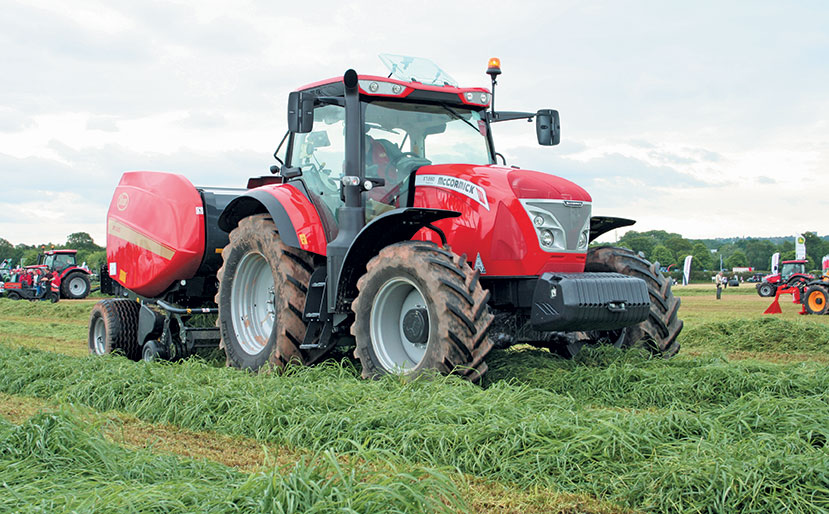 The X7.650 shows off the new 'Efficient' specification introduced for the four-cylinder and smallest six-cylinder models in the current range. This complements the top-spec 'Premium' versions.
The new model with the Efficient specification will appeal to operators of MTX and XTX tractors of similar size and power, especially as it represents less of a jump in technology and price than the Premium version.
Optimal power curve for extra torque
The tractor's 6,7-litre BetaPower engine is built to McCormick specifications by FPT Industrial.
The power curve rises to a peak of 118kW at 1 600r/min as the speed is brought down by increasing load. Maximum torque of 676Nm is reached at just 1 500r/min.
Operators can exploit these characteristics by shifting up to load the engine for maximum power, knowing that increased torque is available to pull the tractor through tough patches of soil when ploughing or cultivating, or to climb an incline with trailed or PTO-driven equipment.
A four-speed PTO package is standard, providing power and economy gearing to suit various applications. There is also the option of a 1 000r/ min front PTO and 3 500kg-capacity front hitch.
The smooth PS-Drive transmission is available with a response-adjustable power shuttle and push button or a fully automatic option of range shifting and four-speed powershift.
The X7.650 PS-Drive Efficient has a 24×24 transmission with the option of a 40×40 crawler gearbox, which adds slower speeds for specialist drilling and other applications.
Standard are load-sensing variable output hydraulics that deliver up to 123ℓ/ min from a piston pump and 44ℓ/ min from a unit dedicated to steering and ancillaries.
Controls for the transmission, PTO and three-point hitch are on a new side console, along with levers for the three mechanical spool valves. These can be supplemented by an electro-hydraulic valve, operated from the multi-function controller, for joystick operation of front-end loaders
Joe Spencer is the mechanisation editor of Farmer's Weekly.