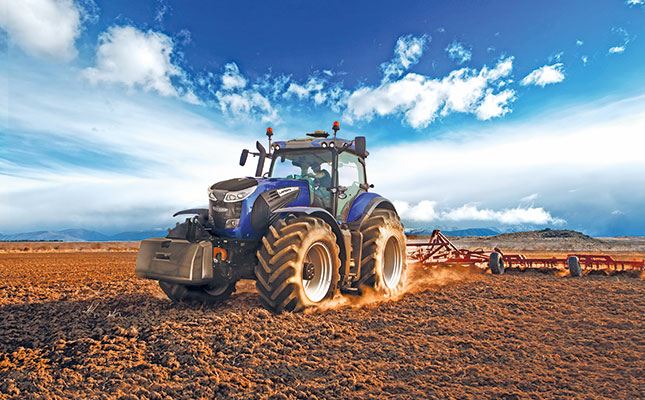 Having the right tool for the job is the first step in getting things done correctly and timeously. But when choosing a tractor, the myriad options available can leave first-time buyers feeling overwhelmed.
Buying a tractor is a costly affair, and a great deal more so if you choose the wrong machine! Jaco du Preez, product and marketing specialist for tractors at New Holland, advises novice buyers to first consider what the tractor will be used for and which implements they will attach to it.
"A tractor can't do any work without an implement; this combination is crucial. Once you've determined this combination, you can start shopping for the tractor.
"Next, consider the power (in kW) and size of the tractor, its transmission, and features or technology that will benefit your applications. Based on the available capital, you can then adjust your shopping list down or up," he says.
Making the right choice
Tractor technology progresses rapidly, and single-pass implements are becoming obsolete. Today, dual- and triple-application implements are used to optimise time and lower the cost of inputs, such as diesel. This has led to an increase in power requirements.
At the same time, four-cylinder tractors are being built that, in many instances, are as capable as a six-cylinder machine.
Gary Halvorsen, manager of high-horsepower tractors at Argo Tractors South Africa, explains that a common trend amongst tractor manufactures is replacing six-cylinder engines with four-cylinder high-performance turbo engines in tractors up to 100kW in size.
"The advantages are that the farmer has a small, compact tractor that has lower initial input costs. This is useful for planting, feeding and baling applications. However, farmers don't have specific tractors for specific jobs, so a tractor's versatility is important. A four-cylinder tractor will have a compromised ability to do soil preparation, ploughing, ripping and discing. A six-cylinder tractor will be far more efficient in this application as it has a longer wheel base and weighs more, which ensures that its pulling power and ability to transfer kilowatts generated to the ground is increased."
Once the kilowatts required to do the job effectively is determined, the farmer then has different transmission options and hydraulic oil requirements available to ensure optimum performance of his/her tractor and implement combination. Halvorsen says that tractor transmissions have advanced significantly, and some work better in different applications.
"Understanding your requirements and the versatility of the tractor in different applications is of the utmost importance," he says.
Successfully completing the job at hand can be tricky when one takes seasonal timing constraints into account. For a farmer with a limited window for soil preparation, planting and harvesting, greater consideration should be given to equipment that can enhance productivity and lower production costs.
Leon Pretorius, marketing product specialist for John Deere in Africa and the Middle East, says that a farmer should have confidence that the tractor investment and correctly matched implements can execute all the required tasks efficiently and timeously to properly utilise the optimal planting window. This means understanding what can realistically be achieved with the equipment and how many hectares can be covered in one day.
"For example, a John Deere 6195M tractor will give you 142kW of power, with a 20F/20R (20 forward and 20 reverse speeds) AutoQuad Plus transmission, which offers automatic shifting, enhancing productivity. This is perfectly matched with a seven-tine DLB ripper to work effectively at a speed of 8km/h. At a constant working depth of 300mm to 350mm, you can complete 18ha per day of your primary tillage preparation prior to planting.
"This same tractor will perform your planting duties. Matched with a 25-tine field cultivator, it can also prepare the seedbed ahead of planting. "Matched with a John Deere 1775NT 12R MaxEmerge planter, equipped with the 5e electric metering system, you can plant effectively at a speed of 10km/h, covering about 60ha per day."
Pretorius notes that any tractor and mechanisation solution should accommodate all seasonal operational requirements in order to successfully execute every task on time.
Investing in technology
With advances in technology in tractors and operating systems, buyers should consider what level of innovation they are ready to take on now and in the future. Matching the physical capabilities of the tractor with the technology is important for ensuring that what is bought today remains relevant tomorrow.
Pretorius explains that the implements used with the tractor should be fully compatible with the programs offered in order to ensure these features benefit and enhance production.
"Technologies available include advanced engine and transmission technology available on medium and large tractors, which enable the tractor to perform at optimal traction efficiency and fuel consumption in any application in the field.
"For example, when you perform the ripping operation with a John Deere 6195M tractor, you can set the hitch response to maintain constant tillage depth, effective wheel slip and transmission speed best suited to the operation. The transmission controller will regulate forward speed and wheel slip based on the implement load, soil density, moisture and structure. The engine controller will maintain full load operation of the engine, optimising field productivity and fuel efficiency."
He adds that, in addition to GPS-guided steering capability on many tractors, today's technology with real-time kinematic positioning, which corrects common errors in GPS processing, enables the farmer to continue the planting operation without markers on the planter.
"This ensures that rows are perfectly matched without having to rely on the tractor operator aligning the rows when planting gets [difficult], such as in residue-covered seedbeds and [at] sunset."
With the move towards precision agriculture and the variable rate applications that come with it, farmers should consider investing in cost-saving technology. This entails tractor display monitors that control fertiliser application, seed metering and spacing, and planting unit control.
To further assist in using this data to its greatest advantage, Pretorius suggest that farmers sign up to the John Deere Operations Centre, which supports the central storage and management of production data.
"These are leading-edge technological features offering direct benefits and payback to your production operations, and they should be carefully quantified in your new tractor and mechanisation investment."
To fully understand the differences such technologies can make to a farming operation, farmers are advised to visit a dealership to see first hand how they work. The dealer should explain the settings while operating in the field, as the technical jargon is far easier to understand when the equipment can be seen and operated.
After-sales service
When buying a tractor, it's important to consider the availability of parts and your proximity to a service centre. A quick response to breakdowns is crucial to maintaining productivity and avoiding losses due to the inability to apply chemicals or to harvest.
Halvorsen believes backup service is growing in importance for clients when purchasing a tractor.
"The dealer's ability to service a client, timeously and without repercussions, is becoming the foremost factor in the farmer's mind. The time constraints have been escalated, as farmers want to maximise every feasible application to ensure that they maximise their opportunities in order to be as profitable as possible," he says.
Pretorius notes that the level of technology inherent in the equipment is also an important consideration. "For example, the [John Deere] JDLink [equipment management solution] can monitor equipment remotely for early fault detection and response, which decreases any breakdown time."
Given the capital outlay for the latest equipment, farmers might stop to rethink their purchase.
Halvorsen notes that, with the rising cost of agricultural equipment, most farmers buy equipment through a bank. "Competitive and attractive finance options are available from most distributors. Once the purchase has been made through a bank, insurance is mandatory."
When considering the affordability of a tractor, finance houses calculate the premiums. Payments are usually made annually after the harvest, as this is when farmers have funds for repayments.
"For first-time buyers, the bank would need some security to cover their risk. This is where it becomes difficult to start farming if you don't have property registered in your name."
Herman Groenewald, financial manager of retail sales for John Deere in Africa and the Middle East, says farmers in a position to pay cash might want to consider the gearing effect of using borrowed funds instead.
"You could rather reinvest your cash in your business to maximise your return. This would place you in a better position to take that next step towards the latest technology. In turn, this would not only reduce the cost of ownership of the asset, but also increase productivity and tonnage delivered.
"Even if you purchase second-hand equipment from a John Deere dealer, John Deere Financial will provide support through a range of financial solutions. New farming technology isn't limited to the latest model; the addition of the latest telematics solution to your existing equipment can build precision farming capabilities to reduce pesticide and herbicide spend, and increase yield."
Email Jacobus du Preez at [email protected], Gary Halvorsen at [email protected], Leon Pretorius at [email protected], or Herman Groenewald at [email protected].