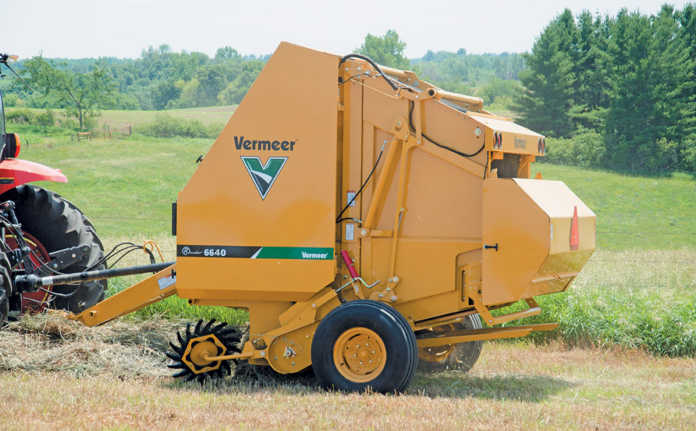 In the 1970s, Gary Vermeer, the founder of Vermeer Manufacturing, had an idea for a one-man hay system. After building it, he held a demonstration.
"Hundreds of farmers came to see a better way to bale, and the first 900kg round bale changed the hay industry," says Vermeer's Frank Beerthuis.
Based in Pella, Iowa, the family-run company today distributes more than 120 products globally. Some of these due to arrive on our shores soon include:
Rancher balers
Vermeer Rancher balers offer high performance at an affordable price. They produce large-diameter bales, are fitted with flotation tyres as standard, and the pick-up is protected by a radial pin clutch.
Cornstalk Special baler
With their heavy-duty components, Vermeer Cornstalk Special balers can bale the heaviest crop quickly and efficiently.
Bale processor
The BPX9000 bale processor is claimed to be simple, durable and versatile. It produces even, consistent feed with minimum maintenance, and the large square bale kit option makes it even more versatile. The BPX9000 can feed evenly into a feedlot or spread bedding a distance of up to 12m away.
Trailed mowers
Vermeer TM-Series trailed mowers are easy to hitch and operate, and are available in widths from 2,5m to 6,3m. Each cutter disc in the side-pull rotary disc mower is self-contained with its own set of gears, bearings and lubricant. The gears remain in the grease even when the mower operates at an angle.
Hay rakes
Vermeer will also be showing hay rakes at Nampo. The company claims that the secret to well-shaped, high-density bales starts with box-shaped windrows, as produced by its R2300 twin rake. The width of the windrow can be adjusted to match the intake of the baler, and all functions can be controlled from the tractor cab.
The VR Series carted wheel rakes feature several Vermeer innovations. They are easy to operate and built for high-volume raking. Adjustable hitch heights and telescoping tool bars allow the rakes and windrow widths to be changed easily, and the patented rubber torsion toolbar suspension requires no tools.
Joe Spencer is the mechanisation editor of Farmer's Weekly.