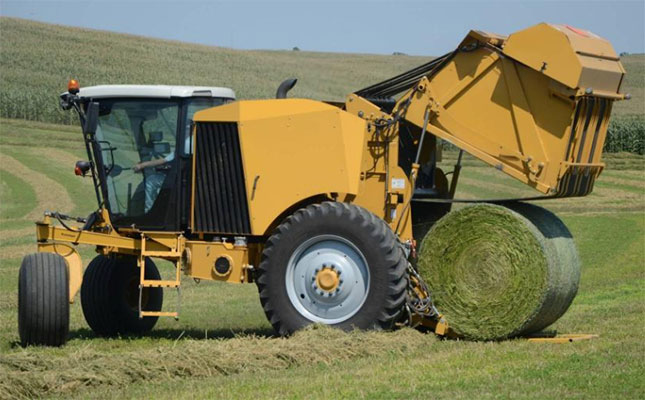 By automating parts of the baling process, the Vermeer ZR5 self-propelled round baler reduces the number of steps required to make a bale, boosting an operator's work rate.
In addition, the machine can automatically make adjustments based on field and crop conditions, while the operator has the freedom to make inputs as he/she sees fit.
The cab is positioned over the front axle, affording an unobstructed view of the swathe, while a camera monitors the pick-up and the crop entering the chamber. Zero-radius turning, similar to that of a ride-on lawnmower, provides greater manoeuvrability than a conventional tractor-drawn baler, allowing for tight headland turns.
A 130kW Cummins engine powers the two rear wheels via a hydraulic transmission. When it's time to head to the next land, the operator can disengage the zero-radius turning and steer the machine conventionally with the front wheels. Transport speeds on the road can be up to 50km/h, making this an ideal contractor's machine.
After the bale has been formed, the ZR5 stops automatically and begins tying or net-wrapping it.
The operator can then use integrated quarter-turn technology to turn out of the swathe and eject the bale to the left or right, parallel to the swathe.
This results in a 35% improvement in bale pick-up time.
After this, the tailgate opens and closes automatically, and the machine turns back in line with the swathe. To resume baling, the operator simply presses a button.
The ZR5 is undergoing testing and evaluation, and could well see changes before commercial production starts in 2019.
Joe Spencer is the mechanisation editor of Farmer's Weekly.