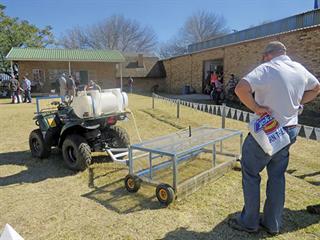 Here are some of this year's winners of Nampo's Boerepatente Kompetisie at Nampo:
Automatic solar powered feeder
For chickens or dogs. Jan Tromp (Vanderbijlpark), First Prize, Class A2 (Modified Machinery and Equipment).

Steel pipe crimper
Replacing the cutting disc on a pipe cutter with a crimping roller enables you to effectively join thin-walled steel tubing without welding. This is always difficult with thin materials. Bertus Goosen, Second Prize, Class B2.
Freeze branding iron
Inventor Jannie Myburgh explains that with three branding letters in a normal frame, it's difficult to ensure all three make full contact for branding. Also, few cattle stand still long enough for three letters to be applied separately.
So Jannie mounted the letters in a sprung frame, allowing all three to be applied at once, making solid contact. With liquid nitrogen, the branding takes just 20 seconds. Jannie Myburgh (Ermelo), First Prize, Class B2 (Modified Tools).
Electronic continuity tester
A handy device for ensuring that all connections are correct when hitching a trailer to a tractor or truck. A big advantage is that a second person is not required. Gawie Daniell (Vierfontein), Second Prize, Class B1.

Pot plant dripper
This turns a plastic cold drink bottle into a dripper for automatically watering pot plants. Tanya Goosen (Botswana), First Prize, Class C2 (Modified Household Equipment).
Sack lifter
I can clearly recall using a similar sack lifter on my father's farm when I was a youngster. This new model has the distinct advantage of being considerably lighter, though! Gerrit Smith (Klerksdorp), Second Prize, Class A2.
PVC pipe clamp maker
This handy device allows you to make pipe clamps with larger diameters than those of conventional clamps. Bertus Goosen (Botswana), First Prize, Class B1 (New Tools).
Electronic variable metering system
This applies variable rates of seed dressing material to seed in a planter. It is controlled by touch screen and can be used for herbicide, fungicide or fertiliser. JN van Coller (Viljoenskroon), First Prize, Class D (Open).
Gate latching chain
This device enables a gate to be tightly secured when the chain is pulled through a tube. A spigot in the tube prevents the chain from being pulled out so that clever horses cannot unhook the securing chain.Gerrit Smith (Klerksdorp), Second Prize, Class D.