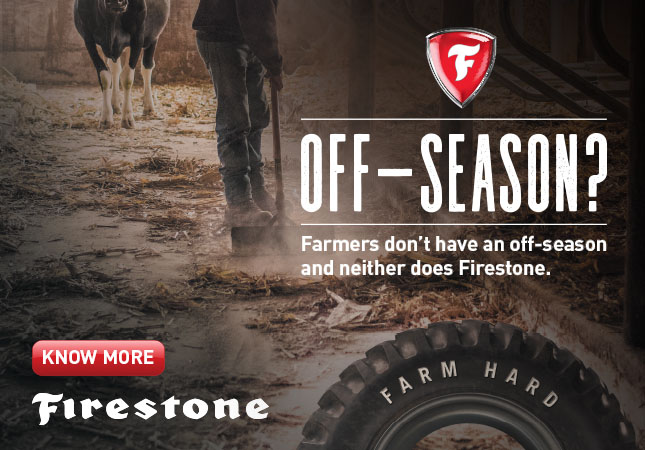 It's about sore muscles and dirty hands and it's the kind of vocation that is made or broken by great partnerships and hardy equipment.
This means that choosing the right agricultural tyres is not just important, but vital. That's what the Firestone agricultural or 'Farm Hard' range does so well – it supports every farmer in getting the job done, even on the hardest of days.
READ Tips for buying a good second-hand bakkie
The real value of the range is its versatility. Whether you need a tyre that gives you better traction on a wet day or a more specific product that enhances your performance in either broad land or narrow row crop farming, Firestone has a solution that won't let you down.
In fact, you can choose a tyre designed specifically for your personal needs with regards to tread, size and application.
The best part about this agricultural tyre range is that it comes to you under a brand name you can trust.
There's a reason Firestone is the number one farm tyre brand in the US. You know with Firestone you're getting reliable and extensively tested tyres with the added bonus of a warranty for up to 9 years as well.
READ Wheel alignment: straight answers
Firestone's 9-year warranty is unique to the industry and it speaks to the commitment and reliability we should expect from all of our products.
There's a long history behind the Firestone farm tyre. Harvey Firestone introduced the first pneumatic farm tyre in 1932, causing a ripple effect across the entire industry and changing it forever.
That means Firestone understands this industry better than anyone out there and this is only reinforced by its constant strive for innovation.
Its engineering team develops, tests and evaluates new technologies and advancements with you in mind. There is even a dedicated Farm Tyre Test Centre.
This versatile and extremely well-developed range is built for farming; it's made for those long hard days in the dirt.
READ Testing tyres in the wet and dry
The Farm Hard range understands that every season brings a new challenge and it's not only ready to meet the challenges of the difficult farming industry, but excel in them.
So, if you're in the farming business and looking to get an incredibly reliable partner on the road with you, Firestone is the tyre brand for you.
For more information visit firestone.co.za.