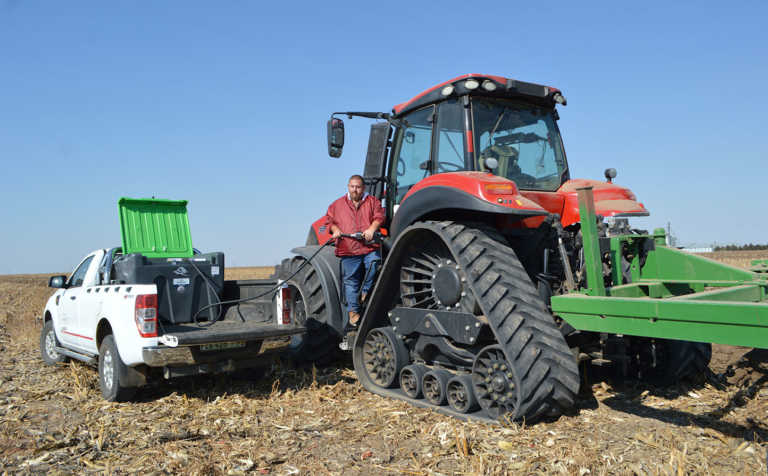 South Africa's farmers have long struggled with the time it takes to refuel farm equipment at remote locations.
FAMS, a local manufacturer and equipment supplier based in Vanderbijlpark, has now teamed up with Kingspan to offer an integrated fuel storage solution to suit all farm fuelling requirements.
The TruckMaster units range from 200l to 900l and are designed to fit on the back of any bakkie, leaving enough space to transport additional equipment.
Problems associated with traditional fuel trailers and bowsers, such as additional licence requirements, axles breaking, flat tyres and maintenance, are eliminated.
Not only that: as it's fitted with a high-quality 12V dispensing system, the unit can be bought off the shelf, and used immediately.
The shape of the units mean they fit comfortably between the axles of your bakkie, and can be strapped down using integrated shackles.
The 430l and 900l models have an internal baffle wall that minimises the movement of fuel while driving at higher speed or over uneven terrain, making the load more stable during transportation.
ADR approved, the ventilated tank bodies can withstand UV radiation and physical impact, while remaining leak-proof. This is especially important when refueling machines in the field.
FAMS also offers the static Kingspan FuelMaster range – double-walled 2 500l and 5 000l tanks for additional fuel requirements.
Made from polyethylene, the units are perfect for refilling the mobile TruckMaster tanks and can be fitted with a fuel management system FAMS manufactures in-house.
The TruckMaster range considers environmental protection and the long-term consequences of fuel spillage, with a specially designed area under the lockable lid that houses the equipment in a secure leak-proof area.
This eliminates the risk of dripping fuel, often found in an external retro-fitted nozzle and hose, making it an attractive solution for the agriculture sector.
For more information, contact [email protected]