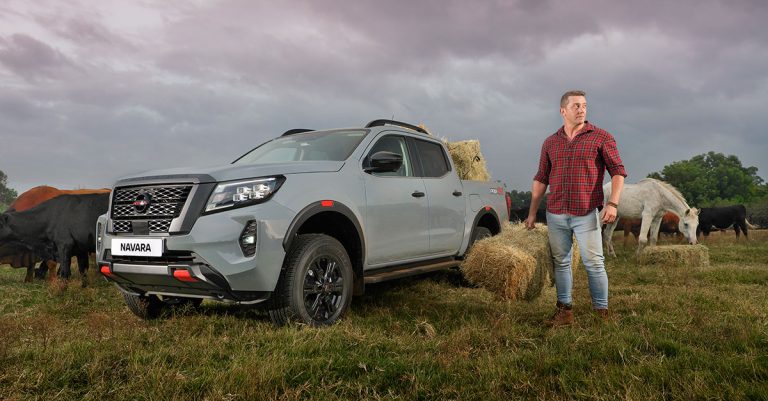 Turn everyday tasks and errands on the farm and beyond into an exhilarating experience
with the new locally-produced Nissan Navara, a tough and beautiful beast, geared to excite and ready to conquer whatever comes next!
The new Nissan Navara has upped the ante in ruggedness, style, safety, comfort and driving pleasure, while remaining true to its heritage of durability, reliability, versatility and
fuel efficiency. Able to tow a whopping 3,5t, the new Navara ensures you've got the means to bring everything you need along for the ride.
Tackling terrain 
The Navara is loaded with tech you need to cruise rolling dunes, tackle river crossings with ease or climb an extreme 4×4 trail with unmatched capability. When 4-wheel drive alone
isn't enough, the electronic locking rear differential delivers equal power to the rear wheels, boosting traction to help keep you moving forward. Wet rocks or loose terrain in your path?
Whenever it senses a wheel beginning to slip, the new Navara's brake limited slip differential system automatically brakes the slipping wheel and sends additional power to the wheels with the most traction giving you better performance.
With 7-speed automatic transmission and smooth-shifting 6-speed manual transmission, you'll always find the right gear for the job!
A powerhouse
The efficient DOHC design of the aluminium blocks and heads in the Navara's 2,5-litre petrol engine makes it a mechanical marvel. The engine has reduced internal friction for a smoother response and is tuned for greater fuel efficiency. It delivers maximum power of
118kW, and maximum torque of 233Nm.
The 2,5-litre turbo diesel engine is a powerhouse, providing 450Nm of torque for massive towing capability. With parallel port cylinder heads and an electronically actuated
turbocharger, it is as responsive and efficient as it is powerful. It delivers maximum power of 140kW.
Comfort and luxury
With Nissan's Intelligent Mobility, you will never again have to ask for directions. Let it guide you to the nearest off-road trail or the best spots in town, without having to take your hands off the wheel.
Connect your smartphone to the advanced 8" touchscreen display using built-in Apple CarPlay, Android Auto, Bluetooth or the charging cable to control apps from your smartphone on the monitor and car stereo with your fingertips and voice recognition.
You can keep your smartphone charged and connected with USB and USB-C charging ports that are easily accessible to the driver and front passenger. There's even a USB port for the
passengers in the back.
You can also personalise your new Navara with a range of Nissan genuine accessories that reflect your personality, lifestyle and functional needs.
Available accessories include the nudge bar, sports bar, tonneau cover tail lamp surrounds, tailgate garnish, head lamp surrounds bonnet guard, 18" alloy wheels, fender flares and tow bar.
With capability and sophistication that blurs the lines between workhorse and show horse, the Nissan Navara is an absolute essential.
The Nissan Navara double cab is available from R479 000. The Nissan Navara single cab
is available from R316 700.
Visit nissan.co.za