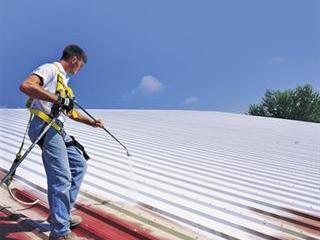 Late in 2008, Farmer's Weekly featured a 'What's New' article on Ceratech, a revolutionary paint-on ceramic roof coating. Ceratech roof coating still contains millions of tiny hollow ceramic beads but has improved since then. A thick layer of Ceratech is an insulation that effectively reduces the radiant heat by reflecting it back into the atmosphere, keeping the interior of the building cooler.
It can be applied to most roof surfaces and guarantees lower energy consumption and cost, lower maintenance, less noise and an extended roof life. On a typical summer's day, when the ambient temperature outside is 30°C, uncoated steel roof sheets can heat up to well over 65°C. A thick Ceratech layer on the roof will reduce this temperature by up to 45%, which means that the roof sheet itself will only reach a temperature of between 30°C and 40°C. This will ensure that the temperature inside the building can remain at a comfortable 22°C to 25°C.
Donation to a school or clinic
Ceratech says that cooling a building's roof is the most cost-effective way of reducing the interior temperature (a white roof can further contribute to this). To create awareness about energy conservation through sheet steel roof coating technology, it has launched the Cool Roofs Challenge, which aims to demonstrate how a simple mindset shift can benefit the environment.
Ceratech has challenged the industrial, commercial and residential property sectors to endorse and show their commitment to saving the planet. Underlining its own obligation to the environment, Ceratech will donate product to a roof of a selected school or clinic that needs a 'cool' makeover.
Contact Ceratech Holdings on 0860 000 703, email: [email protected] or visit www.ceratech.co.za.