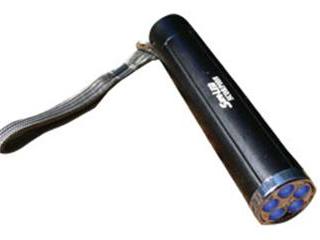 As scorpions glow when exposed to UV light in the 395Nm band, the Supa-LED Battalion Scorpion is a specialised LED torch developed and built especially as a scorpion detector. Machined from solid aluminium with a screw-in tailcap switch, it is powered by a single AA alkaline battery that gives a working time of five hours.
Five LEDs built into its head emit a violet UV light that, at night, shows up any scorpion as ghostly violet-white. Its light has no effect on spiders or insects. It can be used for a variety of applications where you can encounter a scorpion, such as when picking up and handling firewood, whether at home or in the veld; when setting up camp at night and when inspecting tents, camping equipment, clothing, rooms or houses.

Other uses
It can also be used for educational purposes, whether with small children, students or scorpion enthusiasts, or for scientific collection, study and behavioural research. Genuine banknotes have UV-reactive portions that are absent in counterfeit notes. And eosin, a water-soluble, colourless, odourless and tasteless compound, shows up strongly under UV, whether on the hands, clothing or objects.
This characteristic, in combination with the Supa-LED Scorpion light, can be used to set a trap for light-fingered suspects. The Supa-LED Battalion Scorpion comes complete with a Cordura belt pouch and is priced at around R150 at Trappers Trading branches countrywide.
Contact 011 462 2919 or email [email protected].