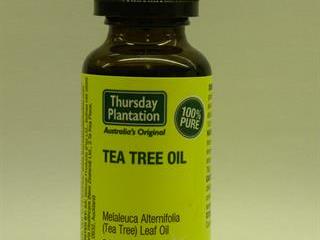 Tea tree oil, also called melaleuca oil, is an aromatic essential oil extracted from the leaves of Melaleuca alternifolia, a native tree of south-eastern Queensland and the north-eastern coast of New South Wales, Australia. It is a clear oil with a fresh, camphor-like scent and cleansing, healing and antiseptic properties. It is an effective treatment for fungal skin diseases including ringworm and athlete's foot.
Adding a few drops to shampoo kills head lice and helps control dandruff and dry scalp. It can also be used to help clear chest congestion – simply put two drops in a bowl of steaming water or in a vaporiser and inhale deeply.
Tea tree oil is invaluable in skin care. A few drops added to oil-free skin moisturiser and dabbed onto the face treats acne, spots, blackheads and oily areas. A few drops to laundry rinse water rids clothes of unpleasant odours.
Combined with other solutions, it is a valuable household deodorant. Disinfect areas with bacteria and viruses by mixing two teaspoons of tea tree oil in two cups of water in a spray bottle and use on high chairs, car seats and other high traffic spots.
A few drops in bathwater eliminates bacteria, while a diluted tea tree oil/water spray controls mould and removes mustiness.
It is also invaluable for treating aches and pains. Apply to sore feet and blisters and onto insect bites. It helps control mild skin infections, cuts and burns, and relieves sunburn.
Tea tree oil should not be taken orally as some people have shown sensitivity to it, nor should it be used on deep wounds or near the eyes, ears or nose.
It should also not be used directly in the undiluted form.
Thursday Plantation Tea Tree Oil is available in pharmacies and many outdoor shops countrywide in different formulations and sizes. The 25ml bottle costs about R150, including VAT.