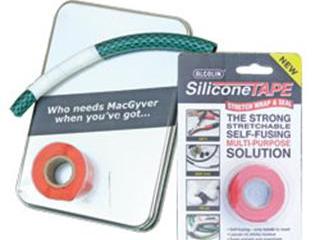 Alcolin, a pioneer in the field of adhesives for the consumer and industrial markets, has just launched a new multipurpose repair technology and a remarkable feat of chemical engineering onto the market. Alcolin Silicone Tape is a revolutionary multi-purpose, super durable protective tape that gives new meaning to the concepts of fixing and DIY.
Originally developed for US military applications, the tape is smooth, flexible, stretchable and self-fusing, which means that, when wound tightly in consecutive layers under tension, it bonds with itself to form a permanent, unreleaseable bond. It is, at the same time, an emergency and permanent waterproof and chemical resistant repair tape that can withstand great pressure and temperature changes, even under extreme conditions.
This makes it an indispensable addition to any toolbox. Alcolin Silicone Tape only sticks to itself and to nothing else. It thus won't leave a sticky residue, and nothing sticks to it either. When stretched and wrapped tightly around an object, it creates an airtight and watertight seal in seconds.
Key Features
Self-fusing and only bonds to itself.
Leaves no sticky residue.
Stretches up to three times its own length.
Creates an airtight, waterproof seal in seconds.
Resists temperatures up to 260°C.
Holds up to 7kg per wrap layer.
Resists salt water, oil, fuel, acids and solvents.
UV-resistant.
Insulates up to 8 000V per wrap layer.
Resists pressure up to 48 bar.
Protects against corrosion.
Alcolin Silicone Tape is available countrywide at hardware stores and retail outlets at under R40 per 3m roll in green, red, black and white.