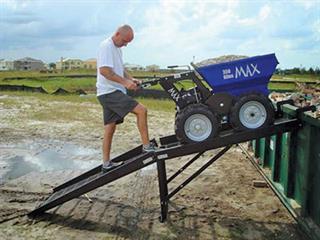 Muck-Truck is a world leader in pedestrian- operated, motorised power-barrows. The first company to pioneer this concept, it manufactures to the highest quality and is recognised globally by the rental, construction, landscaping, parks and utility sectors, delivering remarkable productivity benefits. With a powered barrow, one operator can carry three times more than with a conventional wheelbarrow and transport a load of more than a quarter of a ton. Two models are available:
Max truck
Weighing 130kg unladen and simple and safe to use, the top of the range Max Truck can carry 365kg (volume 0,226m3). It is powered by a Honda GXV 160cm3 commercial engine developing 4,1KW with a noise rating of 79Db. The Tecumseh drive axle has four forward and one reverse gears, enabling the Max to climb a 38° slope fully loaded. A throttle lever allows precise forward speed control, and a parking brake stops it when the throttle is released.
Four-wheel drive ensures maximum traction when moving loads on wet and uneven ground. Balanced weight distribution enables easy tipping. A bucket release controls the emptying of a load such as concrete. Maintenance is easy. The transmission requires no service. Metal components are laser cut and powder-coated for a low-maintenance finish. The engine carries a 24-month commercial warranty, and the frame and other components a 12-month warranty. It costs R44 000, incl VAT.
E-truck Battery-Powered Wheelbarrow
The E-Truck is a new model with all the strengths and features of the other Max Truck, but is more suitable to areas where noise and fumes are a problem. Four 12V batteries interconnected to produce 24V power the machine so that its ability to climb or carry material is as good on as that of its the petrol-powered counterparts. It will run for up to 3,5 hours continuously on one charge. Recharging the batteries takes eight hours.This machine has the same strength and quality as other models in the range but is kinder to the environment. It costs R78 000, incl VAT.
Phone André van der Colff on 083 387 3012.
NB. Products and prices were checked at time of writing this article.