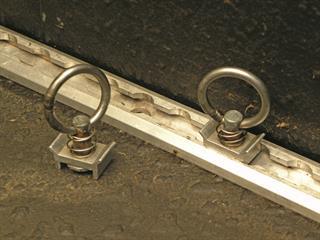 The Hi-Lift Slide-n-Lock is a strong, adjustable cargo tie-down system. It consists of anodised aluminium alloy rails and movable quick-locking tie-down points. Bolted onto the bed and/or sides of the load bin, it is the most versatile load tie-down and restraint rail system around, and a simple, effective way to secure the load.
Self-locating recesses placed 25mm apart on the rail allow the tie-down points to be positioned wherever required in seconds: simply pull up the spring-loaded locking pin, slide the tie-down point to the desired locating hole, and lock it into place.
The durability and strength of the Slide-n-Lock system enables it to stand up to great strain and secure very heavy loads. The rails can be installed in minutes, using 8mm diameter countersunk head bolts in pre-drilled countersunk holes spaced 180mm apart.
It is ideal for SUVs, bakkies, trucks, trailers, Jeeps, ATVs, aircraft and watercraft. The slim, functional design, rust-free materials result in a neat, no-nonsense attachment. Each set includes:
Two anodised aluminium Slide-n-Lock rails;
Four stainless steel locking slides (56cm Slide-n-Lock sets only have two Stainless-Steel locking slides);
Mounting hardware.
Slide-n-Lock is available in lengths of 100cm, 150cm and 200cm, under the name cargo rails for fit-it-yourself. Locking slides are sold separately at R30 each. All prices include VAT.
Phone Voetspore 4×4 Megaworld at Woodlands in Pretoria, on 012 940 8999, or email [email protected] or [email protected]