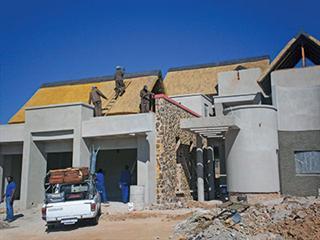 Micon Thatchsayf was developed in South Africa by the Council for Scientific and Industrial Research (CSIR) to provide environmentally safe and effective fire protection of a thatch roof. It consists of a water-based solution of fire-retardant and intumescent chemicals in a polymer emulsion binder that protects the thatch in two ways.
The fire-retardant chemicals penetrate the leaves in the thatch while intumescent chemicals, in combination with some fire-retardant chemicals, form a protective layer on the thatch stems. Exposure to fire triggers the first stage of protection and the intumescent material foams and forms an insulating char on the surface, limiting heat transmission and the supply of oxygen that supports combustion. In the second protection stage, the fire-retardant chemicals react with the cellulose and charring takes place, further limiting the flow of oxygen and reducing the surface temperature of the coated base.
The Thatchsayf has been tested in accordance with CSIR, DIN and UL (modified) requirements. It is environmentally compatible and improves compaction while allowing the thatch to breathe, preventing rotting. It retards bacterial growth, and does not alter the natural appearance of the thatch. To minimise water penetration, the roof slope must be at least 45°.
Only professional operators approved by Micon may apply Thatchsayf. Strict control ensures an application rate of at least 1,3l/m² by means of high-pressure spraying equipment. The upper and lower surfaces are treated for at least a 5mm penetration to the lower surface, where compaction is greater, and up to 75mm on the upper surface. The roof must not be disturbed after spraying, failing which re-application will ensure protection.
Quality control procedures are of a high standard, recording all batch numbers of the material used for each contract. Micon issues a certificate for each contract, while the contractor signs that the roof has been treated according to specifications. The CSIR conducts spot checks on completed roofs.
Physical properties
The viscosity is 16 seconds F.C.4, while the specific gravity is 1,16. It takes two to five hours to dry, full cure time is four days, the solid content is from 47% to 49% on volumetric basis, the spread rate 1,3l/ m² and its shelf life is 12 months.
The price is between R75/m² and R80/m² excluding VAT for inside and outside treatment. For more information, phone Micon on 011 882 1443.
Products and prices were checked at time of going being published.