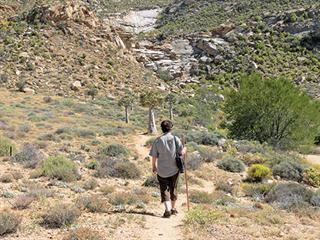 Garmin Southern Africa (Pty) Ltd has just released the TOPO Southern Africa 2013 PRO, a versatile new premium topographic map set. This is a basic street map product with active routing (activity-based routing calculations), topographic details and recreational map data. It's designed for users travelling between cities and across borders in 10 Southern African counties. Included is a routable road and unpaved network for these countries, as well as depth elevations for many South African dams.
The map covers Angola, Botswana, Lesotho, Malawi, Mozambique, Namibia, Swaziland, South Africa, Zambia and Zimbabwe. It shows farm boundaries and names in South Africa and Namibia, and contours at 20m intervals, and provides digital elevation for trail profiling. It also has address information, searchable points of interest (POIs), searchable geographic place names and more.
"TOPO Southern Africa 2013 PRO is ideal for all map-capable Garmin outdoor units," explains Mathys Thompson, cartography category manager for Garmin Southern Africa. "It contains detailed topographical and recreational information, so is the perfect map set for the outdoor enthusiast, recreational planner and for orientation capturing. "Searching capability based on a comprehensive list of street addresses and POI allows the user to quickly find a route to any destination."
The seamless routing between different countries enables accurate planning and navigation to any destination, while active routing allows hikers to customise trips. "With active routing, the compatible GPS unit automatically creates the best route," says Thompson.
Other key features
Premium topography
Detailed topographic and recreational map data ensures easy recreational trip planning and orienteering.
Seamless experience
Mapping detail and routing is seamless across borders.
Inland water coverage
Covers 34 dams in South Africa with bathymetric contours and other aids.
Easy trip planning
Trip planning is easy with the Base Camp application available as a free download.
The TOPO Southern Africa 2013 PRO is available from Garmin Online as a download or on a 4GB microSD card or 4GB SD card from selected Garmin dealers, part number 010-11982-00. The price of R1 299 includes VAT.
Products and prices were checked at time of going to print.