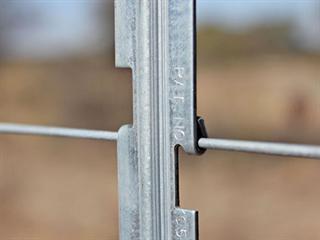 Any fence consists of three basic components: fencing wire, the uprights and binding wire to keep everything together. Using components and materials manufactured to specific quality standards extends the lifetime of the fence. One such component is galvanised fencing wire.
Another is the droppers used to keep the fencing wire, attached with binding wires, at a specific spacing. Dropper for Life is a new dropper system for wire fencing on farms and game farms. Without the need for binding wire, these droppers keep the fence wire secure and evenly spaced.
Features
A patented new concept secures the fence wire to the dropper.
No binding wire needed.

Fence erection is quicker and more cost-effective.

Complete rust and corrosion resistance.

Manufactured from galvanised steel (mikron z200).

Fire-resistant and lasts longer than conventional droppers.

Increased visibility. Galvanised steel is more light-reflective, making the fence more visible over a longer distance.
Security
On orders of more than 2 000 units, the name of the owner, farm or business can be imprinted every 300mm on the dropper to easily identify stolen droppers.
Lengths
Dropper for Life comes in standard 1,2m, 1,5m, 1,8m and 2,4m lengths. Custom lengths are available on request.
Fence erection
Every order comes with a tool to attach fence wires to new droppers. It takes seconds to bend the dropper tag over the fence wire, securely attaching it.
Electrified fencing
Dropper for Life has recently launched an insulator specifically developed for electrified fencing. It is available with or without a reflector. Prices for the droppers range from R7,50 to R16,50, excluding VAT.
Contact Daan Human on 018 381 5250 or email [email protected].