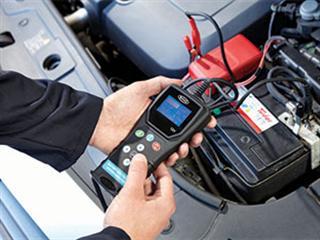 According to the Automobile Association, one of the most common causes for vehicle breakdowns is a flat battery. Testing the battery regularly will prevent or reduce the chance of this happening. A battery analyser is an accurate instrument to check its cranking ability and indicate if there is a need to replace or recharge it. To assist motorists and other users, the British company, Ring Automotive, recently launched two new battery analysers and load testers.
The top-of-the-range RING 12v Battery Electrical System Analyser RBA600 utilises microprocessor control to analyse and test the battery capacity without applying a load. The unit has the option of selecting the battery capacity and rating system of the battery up to 1700CCA.
The RBA600 incorporates built-in reverse polarity protection and can analyse a battery in or out of a car. It tests the battery, alternator, starter and earth to compile a complete check. The backlit LCD screen makes the readings visible even in the dark. Included in the kit is a disc with software, which enables printing reports so that a detailed history can be built up. This can be customised to show the site, battery and car details. It is available at selected outlets at around R3 800 including VAT.