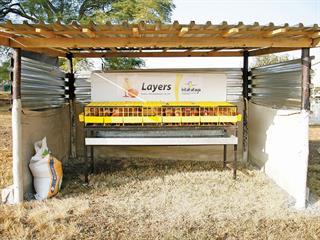 The KwaZulu-Natal Poultry Institute (KZNPI) recently expanded its production facility to include new modular coops well-suited to small-scale farmers on a limited budget. "What small farmers are doing in the rural areas is very important and is a huge inspiration to us all," KZNPI general manager, Janet Lee, said at the institute's farmers' day on 2 June.
The coops are designed and manufactured by Inkukukaya Modular Coop Solutions, which sponsored KZNPI's broiler and layer sheds as part of its marketing campaign. The sheds are basic and has a distinctive yellow colour.
KZNPI has successfully raised chicks in these coops using the blanket brooding method. A recent trial of chicken growth rates under blanket brooding recorded 221g at 7 days, 546g at 14 days, 1,0kg at 21 days, 1,7kg at 28 days and 2,4kg at 35 days. This compares favourably with growth rates of conventional floor brooding of 230g, 552g, 924g, 1,6kg and 2,4kg at the same time intervals.
Simple design
The KZNPI is running further trials over the winter months but already sees considerable potential in the product.
"Inkukukaya coops have the potential to allow people to start farming with minimal capital outlay, without the need for bedding material or expensive brooding and with virtually no 'down time' between flocks. The system allows for great flexibility and is easy to expand," says Lee.
The Inkukukaya cage was designed by Botswana poultry farmer, John (Butch) Vaughan-Davies, who approached South African plastic injection moulder, Ian Dickinson, for manufacturing. Dickinson took the design a step further, developing a system of modular plastic panels that simply click and lock into shape.
The coops are sold in flat-pack form and can be quickly assembled without tools. The coop should ideally be placed under a roof, although to reduce start-up costs an open-sided shed will suffice instead of a conventional, fully-enclosed chicken house.
"The cages must be placed on blocks or a wood or steel framework to lift the coop off the ground and support the coop floor. Fresh air then circulates into the cage from below and droppings fall through to the ground," explains Dickinson.
No electricity needed
The blanket brooding method is suitable for home-grown chicken production, especially in rural or urban areas where there is no electricity. "Blanket brooding requires no lights, no sawdust or litter, and no electricity or gas for heating, which is a huge cost saving," says Dickinson. "Farmers simply throw a blanket over the cage for warmth. The blankets are lifted during the day for light and fresh air."
This system was successfully piloted in conditions where temperatures dropped to 0°C.
The Inkukukaya kit is sold complete with drinkers, feeders and legs at a cost of R1 350 for a 25-bird unit and R4 800 for a 100-bird unit. Each cage measures 2,4m x 0,6m. The product carries a five-year guarantee. Launched in 2014, Inkukukaya has expanded into Zambia, Zimbabwe, Mozambique, Swaziland, Botswana, Uganda, Tanzania, Kenya and Namibia and, six months ago, into South Africa.
"Everyone who works with Inkukukaya sees the advantages," says Dickinson. "The turnaround time of broilers in a normal house is 6,5 times a year – while the Inkukukaya coop can do nine times a year. Production is therefore higher – and mortality rates are low at around 2%."
The product has had a "brilliant" response, he says.
"In KZN, we're stocking our product at Coastal Farmers Coop and TWK outlets and in the Eastern Cape, Umtiza Co-op has been given the exclusive distribution."
Email Ian Dickinson of Inkukukaya Modular Coop Solutions on [email protected] or phone him on 083 629 9739. Visit inkukukaya.co.za for more information.