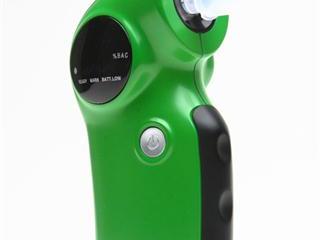 An undeniable fact is that alcohol doesn't mix well with petrol, gunpowder, speed, recklessness and expensive farm equipment and machinery. A wise farmer, farm manager or foreman will make sure that nobody operates any machinery, drives a motor vehicle, or handles an animal when under the influence.
But how does one ensure this is done in an objective, fair and foolproof manner? Alcohol testing equipment leaves no room for doubt. As a result, it can reduce or even eliminate alcohol-related accidents in the workplace and increase productivity by ensuring that nobody is 'under the influence' on the job. Johannesburg-based company Alcohol Breathalysers CC stocks and distributes a wide range of alcohol testing equipment.

Products

The disposable AlcoHawk One Test Breathalyser for the occasional once-off test is priced from around R15 (excl VAT) in bulk to around R25 (incl VAT) when bought separately.
The Alcoscan AL2500 is a small, easy-to-use quick scanner that turns on or off with just one button. It is battery-powered, can be used many times and costs around R500 (incl VAT).
The battery-powered and portable Alcoscan AL6000 range consists of the Lite Model, the Standard Model and the Printer version, respectively costing R1 600, R2 200 and R5 500 (incl VAT). Disposable mouthpieces for the AL6000 range cost R262 (incl VAT) for a pack of 100.
Contact Angus MacArthur on 011 023 8955, email [email protected], or visit www.breathalysers.co.za.