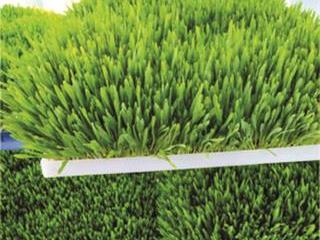 This hydroponic production system, which operates in an insulated PVC and aluminium alloy case, allows even a suburban garden to produce fodder and human food with minimal water.
IN A NUTSHELL
Year-round production, with daily harvests.
High yield and turnover: 6kg to 7kg of sprouted fodder from 1kg barley seed in seven days.
Highly nutritious with exceptional protein, vitamin and fatty acid content.
Low maintenance cost, small ecological footprint.
Sprouting barley seed increases its digestibility from 30% to above 80% and doubles its protein level.
Sprouted barley does not cause acidosis.
External inputs limited to seed, electricity and water.
Needs only 1% of the water needed to produce traditional fodder.
Daily production 450kg to 500kg fodder (fresh mass).
Fodder is highly digestible and nutritional, succulent, slightly alkaline and suitable for ruminants and non-ruminants.
Requires low manpower.
The system is easily understood; training ispart of the turnkey solution.
The first cycle of the system includes refresher training and QA checks.
The price is R249 000, including VAT, but excluding transport, for a complete system.
For more information, visit www.voerkas.co.za.