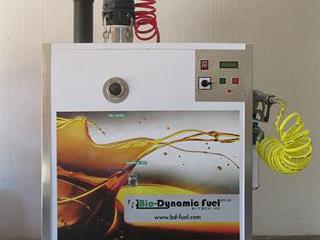 Recycling cooking oil, a readily available commodity, into biofuel to power farm machinery makes economic sense, says Graham Rebello, managing director of Bio-Dynamic Fuel.
The company has developed a fully automatic compact stand-alone machine that easily converts used cooking oil sourced from local restaurants, retailers and food outlets into environmentally friendly biodiesel. Biodiesel can be used safely in any diesel-powered engine, whether it is fitted on a forklift truck, a combine harvester or anything in between.
Biodiesel is completely biodegradable and far safer to store than fossil diesel. Harmful emissions are dramatically reduced and biodiesel lubricates more efficiently than fossil diesel fuel, so it has the potential to increase engine life. The B-Tech 40 produces 40l biodiesel from 40l used cooking oil per cycle of 10 to 12 hours. The process is simple, foolproof and uses a pre-packaged ready-to-use chemical treatment supplied by Bio-Dynamic Fuel.
"It starts with the correct raw material. The first choice is a triglyceride oil or fat. This can be any vegetable oil, but I suggest one of the more common and therefore cheaper varieties such as sunflower, safflower, palm, canola or soya oil," explains Paul Maher inventor of the process and technical director at Bio-Dynamic. "Used motor oil or mineral oil has a different molecular structure and is not suitable for the conversion process.
"A restaurant must by law change its oil frequently, so visit all the local restaurants in your area and establish a working relationship with the owner or manager to obtain used oil. You will find that the restaurateur is used to selling used oil. Convince him or her to sell it to you – at the right price."
Pays for itself in four months, or less
Shaun Dalrymple, sales director at Bio-Dynamic, explains that a small diesel-powered generator uses about 26l diesel every seven hours, so producing biodiesel at around R6/l is a highly cost-effective option, in addition to its environmental benefits.
"When a farmer uses biodiesel at 40l/day, the machine would pay for itself in four months at the current cost of fuel and electricity. Bearing in mind that these costs are continually rising, the B-Tech 40 could easily pay for itself in less time," he says.
Besides saving the farmer money, the B-Tech 40 recycles what was previously a troublesome waste product. The system is a carbon-neutral process, which will enable a farmer to sell accumulated carbon credits in due course. The B-Tech 40 is priced at R35 000 excl. VAT.
For more information, phone 083 788 2730 or email [email protected]. Visit www.bd-fuel.com.