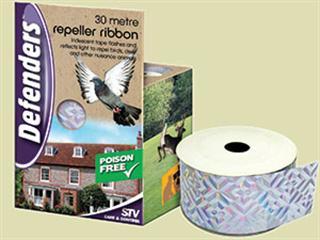 Keeping birds and other diurnal animals out of crops is a battle, especially as the farmer needs to avoid crop damage and pollution. The Defenders STV922 repeller ribbon is safe, non-toxic and does no harm to animals, acting merely as a visual deterrent. The tape has a holographic surface that reflects light to repel birds, wildlife and most livestock. Its efficiency is enhanced by wind, the slightest breeze moving it to reflect sunlight in a random flashing pattern difficult for the target animal to habituate to.
A light breeze also provides movement and a metallic rattle that causes the animals to keep their distance. It is ideal for protecting fruit and vegetable gardens, seedlings, orchards, vineyards and other sensitive areas from damage. For fruit trees and vines or to deter birds from roosting and nesting in eaves, the tape can be cut in 1m lengths and the strips suspended vertically in strategic spots to swing freely in the wind without tangling.
To protect vegetable crops and newly-seeded lawns, lines of tape can be stretched between posts at a height of 0,5m to 1m above ground level. Alternatively, a 'maypole' arrangement can be set up, by stretching lines around a tall centre stake and pegging them into the ground. The ribbon is supplied in a 30m value pack and is available from selected hardware and garden outlets as well as farmer stores countrywide at R80 per pack.