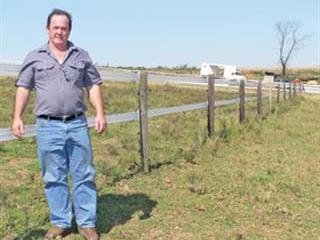 Annually many horses are injured or even die due to unsuitable paddock fencing. To address this problem, Kevin Toucher has developed the KnT Safety4Fencing system, an electrifiable flexi-plastic fence to improve the safety of horses and other livestock. Easy to install and maintain and pleasing to the eye, it is manufactured from UV-stabilised virgin polyethylene material. The 100mm-wide strips simulate the rails of the typical white wooden post-and-rail commonly used to contain horses.
As the strips are strong and flexible, a panicked animal running blindly into a Safety4Fencing fence is unlikely to be injured. "The strips can be electrified as three steel cables are imbedded in them as reinforcement," Kevin explains. "One of the cables is exposed through perforations in the strip's plastic covering. If this cable is connected to the live terminal of a standard electric fence energiser, it will act as an electric fence."
The Safety4Fencing system is quicker and easier to install than a conventional wire or post-and-rail fence. Existing fence-posts can be used, or you can plant fence-posts a maximum of 3m apart and attach the Safety4Fencing strips using tools supplied. The ratchet mechanism designed and manufactured by Kevin tightens or loosens the Safety4Fencing strips as required.
The tensioners keep the fence straight and immaculate for years. As the fence doesn't warp or break, constant repainting is unnecessary. Safety4Fencing can also be used to fence off portions of a garden, a golf course or a driveway. The Safety4Fencing system is available directly from Kevin at about R30/m, depending on the total length.

Contact Kevin Toucher on 082 570 5865, email [email protected] or visit www.klipsnthings.co.za