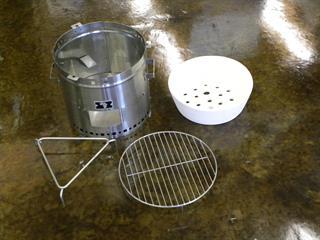 The Mbaula Green Stove is an affordable, portable biomass stove ideal for everyday use. It can accommodate a pot, pan or kettle, and can even be used for braaiing. A few handfuls of charcoal or hardwood chunks will cook a meal for an entire family.
The secret of its effectiveness is a thick ceramic pan with ventilation holes, which rests on inner tabs above the coals.
This acts as both a heat sink and a heat shield, maximising use of the generated heat and reducing the amount of fuel needed – and thus the smoke produced. A laterally sliding ventilation plate controls the airflow for combustion and hence the heat generated.
The stove is especially useful as an economical slow-cooker, making it ideal for stews, soups and casseroles, or to keep a large kettle on the boil for coffee, tea or washing up. Made of stainless steel, it is fully portable, easy to operate and maintain, and suitable for daily use.
It is also suitable for travelling and camping, provided the vehicle has enough space to accommodate it. The Mbaula Green Stove (product code 1004238) is available at the Outdoor Warehouse and Tafelberg Furnishers and is priced at R990 including VAT.