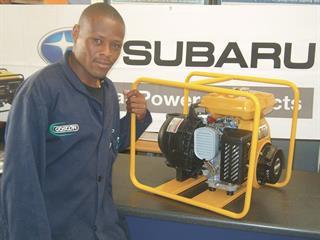 Agricultural equipment supplier Goscor Power Products (GPP) has brought out a purpose-designed and built liquid fertiliser pump (LFP). The LFP should help GPP increase farmers' profit flow countrywide.
The LFP transfers liquid fertiliser quickly, efficiently and with minimal waste from bulk tankers to nurse tanks and then to tractor tanks. But, explains GPP national sales manager Mark Bester, "the transfer process must be completed as rapidly as possible to prevent the fertiliser from drying out and becoming expensive waste."
Because liquid fertiliser is highly corrosive, the pump is made of corrosion-resistant thermoplastic material. All components and fasteners are made from high grade stainless steel, which is also immune to corrosion. "In addition, the impellor is an open vane design, enabling the pump to handle the liquid fertiliser without clogging," continues Bester.
It's powered by a five-horsepower Robin-Subaru engine with a two year warranty. The engine is connected to the pump by a specially designed spacer to prevent leakage or corrosion. Likewise, all seals on this pump are made from a specially formulated EPDM material to handle the composition and corrosive nature of the fertiliser.
The whole pump and its engine is enclosed in a protective role-over frame, making it easy to handle and carry around, reducing the risk of accidental damage. It's backed by the knowledge and experience Goscor has accumulated over its quarter-century of service to the South African agricultural industry. A nationwide network of dealers ensure quick and efficient service and parts supply, as well as expert technical advice on tap.