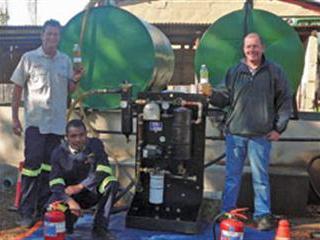 In South Africa, the quality of diesel fuel is questionable and for some reason worsens further away from metropolitan centres. Water and bacterial contamination are the most common concerns. Diesel is an organic substance and deteriorates over time through a build-up of bacteria and algae incompatible with today's high specification diesel engines. These contaminants, together with water and rust particles caused by corrosion, block filters and fuel pumps and damage fuel injectors. The inevitable result is downtime or engine failure.
Contaminants accumulating in the tank continue to affect the fuel, exacerbating the problem. Algae-X is a fuel conditioning and decontamination technology that has addressed this fuel quality problem in Southern Africa for more than a decade through a network of approved distributors. "The only way to convince farmers that the diesel they are using is questionable is to physically remove it from the vehicle or storage tank and present the visual result as proof of the problem," says Kevin Webster, who runs the Midlands division of Algae-X East Coast.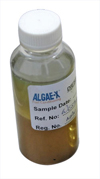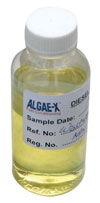 Before and after. The sample on the left is not something you want to see in your fuel tank. The one on the right shows the same fuel restored to its original integrity.
Algae-X offers a range of products and services, including a mobile diesel tank to determine the quality of the fuel on site and, if required, clean the tank. It is a simple and cost-effective procedure, unlike the traditional tank cleaning method of decommissioning a tank and disposing of its contents, which may be a vast quantity of fuel.
The process
The cleaning process involves:
Removing free water, debris and solid contaminants from the tank.
Removing biofilm accumulation on tank walls and if applicable, baffles and supports.
Removing entrained and emulsified water.
Eliminating all microbial and bacterial growth from the entire fuel environment, without using toxic biocides.
Remediating the fuel integrity by reversing the deterioration process that naturally occurs in diesel fuel.
Algae-X also offers a range of products to maintain and monitor the fuel quality.

Contact Algae-X on 031 205 9666, email [email protected], or visit www.aglae-x.co.za